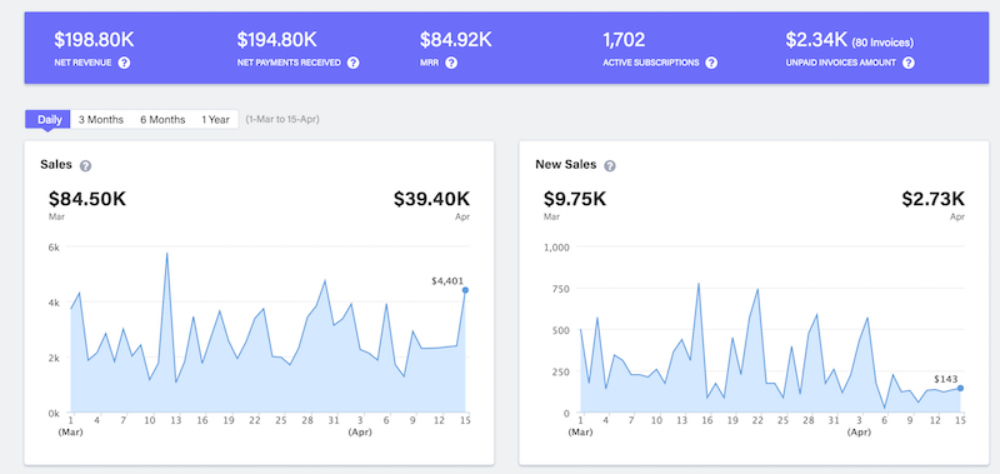 The main benefits of Chargebee are its user-friendly payment system, its flexibility, and its customization options.
Chargebee is an elegant and comprehensive SaaS plug-and-play subscription billing solution that is cloud-based and easy-to-use. Customer billing can be handled easily and efficiently by its intuitive interface.
Businesses — particularly small and emerging ones — now have the option to run subscription services since Chargebee allows them to have their billing process automated. Chargebee users are also well-informed as they are provided with a view of their user base and revenue numbers. With this solution, there is no need to get the services of a developer since it has features that allow users to run promotions, provide discounts, and change pricing. Back-end operations like payments collection and invoice generation can be put on autopilot. The discount management for marketing and sales teams can also be automated.
Integrating with their preferred payment gateway is also not a problem as Chargebee is partners with several payment gateways, making it ideal for businesses that prefer more than one channel.
Email notifications can also be customized to fit particular events.
Chargebee users can also be confident that their information is kept safe in data centers. Man in the middle (MITM) attacks and distributed denial of service (DDOS) attacks are also prepared for.