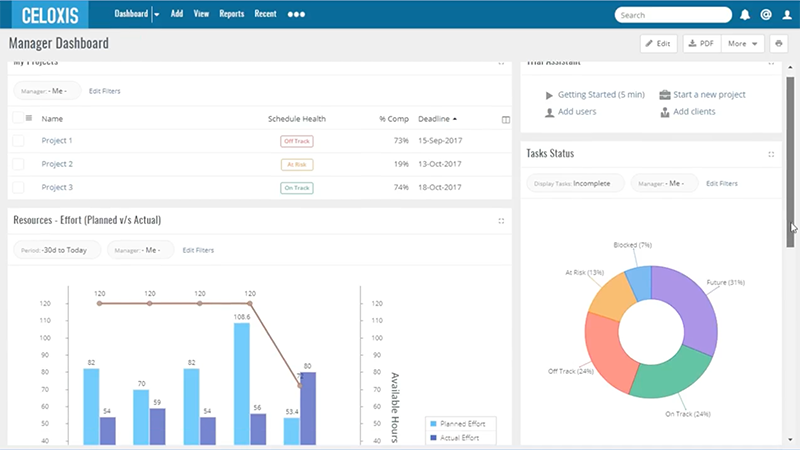 The main benefits of Celoxis are, it is affordable, easy to follow, and a wide range of advanced features. Here are more details
Celoxis is a feature-packed project management app designed for critical business processes and serious project management. Its standout aspects are affordability, ease of use, and enterprise-class features.
With Celoxis, you can manage complex project portfolios. The platform allows you to manage portfolio risks, juggle resource workloads, and prepare task schedules with inter-project dependencies. Resource managers can cater to demand with capacity planning and track usage across projects. On top of that, you can forecast billing and decide task and project budgets. Project team members can report time spent on their tasks and log the incurred expenses.
A major highlight of this software is its easy customizability. You can apply different resource rates to particular projects and customize resource work calendars. In addition, users can fill time on work not assigned to them. Report viewers can customize their reports with groups, columns, and dynamic filters. Celoxis gives you the flexibility to create your own tools and also the ability to customize predefined workflows, for instance, for risk management or bug tracking.
Besides project managers, Celoxis is also a great app for team members. Your company's stakeholders are sure to encourage its adoption because of its numerous helpful features. Managers can use the sophisticated resource management features to track workloads and manage over-allocations, and the fast Gantt chart to create flexible project schedules.
The best part is your company does not need to invest in multiple software tools for project management. Your team members can use this single app to fill time, manage tickets, report bugs, and view their tasks. They can send updates without logging in and also get relevant alerts in their inbox. In addition, managers can get real-time and accurate info on their portfolios through insightful charts and reports. They can also get data on minute details which enables them to make smarter decisions.