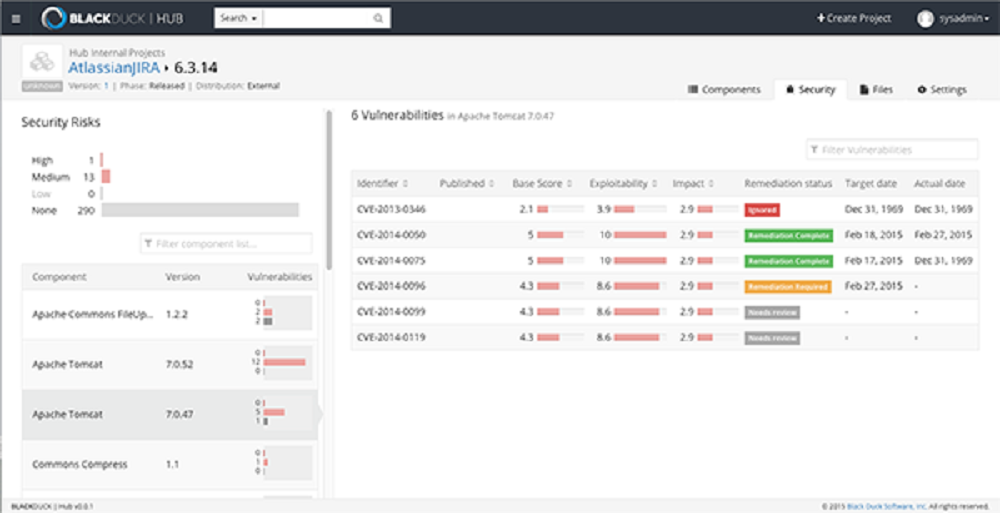 The main benefits of Black Duck Hub are its secure operations, capability to automatically map vulnerabilities, ease of remediation monitoring and option to provide open source policy for projects. Here are more details:
Security
Development processes and tools are integrated with Black Duck Hub for an easier language and package managers identification. This also aids in finding open source codes in a project. With this, development operations are more protected from attacks and compromises since the discovery client will give users the security information whenever they need access to the system.
Automated mapping of vulnerability
The system is capable of immediately finding vulnerabilities in codes which allow users to resolve them quickly. This prevents the vulnerabilities from being taken advantage of by malicious attackers since the system will prevent them from being utilized as backdoor entryways. Aside from that, the system also scans continuously the application and other software related data to determine if new vulnerabilities are found and then alert users about them.
Remediation Tracking
With the system's two way integration with Jira, developers are able to track, deploy and plan their remediation tactics better when working with their projects. Black Duck Hub also supports integration with other third-party reporting apps and services which provides users with more detailed info with regards to their remediation activities. This effort can be useful for future endeavors.
Open source codes policy
Users are able to set, implement and manage open source policies so that the undergoing project is assured of being developed only with open source languages that they approved of. This prevents project compromise due to unauthorized codes while at the same time allowing exceptions to be made when necessary.