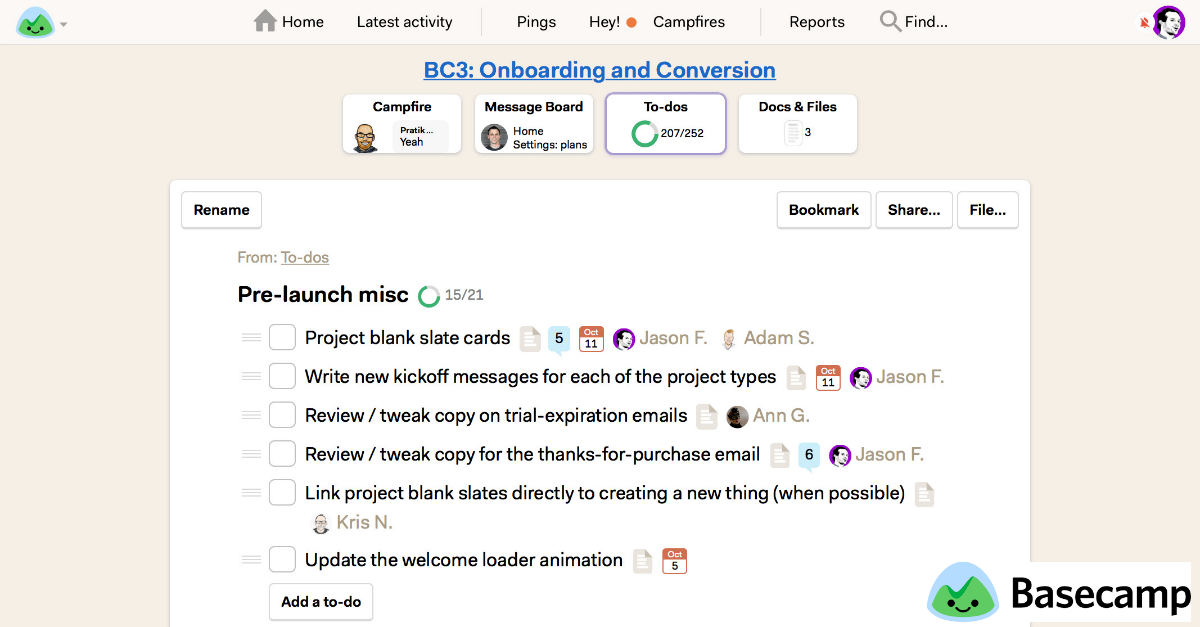 The main benefits of Basecamp are its stable functionalities, ease of use and great customer support.  The following details spell out these advantages to be had when you use Basecamp:
Basecamp allows members access to the same project management dashboard even if they are different time zones apart. All of this is done through making project management simple and intuitive through a user-friendly interface that makes the most cumbersome and complex projects digestible.
Users can monitor their projects, schedules, and budget easier with the help of Basecamp. Important functionalities like to-do lists, interactive Gantt charts, document management, instant messaging, and others make it easier for teams to run a collaborative project together. As it is web-based, records and other information are updated in real time. This is something important for companies that undertake projects requiring a high level of responsiveness from its team members.
The user interface is organized for easy viewing and interaction having all tasks tagged with employee assignments plus their due ranges and dates. This and the ability to prioritize and reorder tasks can help companies a lot in minimizing confusion. Basecamp allows you to centralize information pertaining to your projects and even customize the system for your own needs. In addition, Basecamp also generates reports for accomplishments, thus saving teams more time to do actual work rather than spending essential time for reports.
With its connectivity functions including a forum, team members can share their ideas via the platform. Proposals can be worked on and simple conversations can be made and saved. This helps ensure that all members are on the same page. With the campfire feature, users can ping and chat with individuals or groups in real time. This provides users an avenue to reach important timely consensus for important team decisions.
All of this is offered and more are being offered using clicks, taps, and simple drag-and-drop mechanisms that even children today would find intuitive.
Basecamp offers 24/7 technical assistance to assist users from different time zones with their project management queries. Furthermore, as a favorite go-to solutions provider, Basecamp has a huge and lively user base that you can also get in touch with. All your Basecamp related questions will always be answered in only a few minutes via technical assistance from well-trained staff or other users like you.