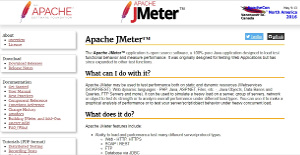 The main benefits of Apache JMeter are its extensibility and high portability as well as stable functionalities. Here are the details:
Extensible and Highly Portable
Developers value Apache JMeter for its extensibility and high portability. They can use this to test their online applications' performances and measure their load strength and compatibility across platforms, servers, and browsers. Running tests on servers like Web (HTTPS and HTTP), POP3, SOAP, and JMS can easily be done on Apache JMeter. This makes testing and developing the usability and workability of online applications easier, faster, and more accurate.
The open-source code provides developers an avenue to create applications using various sets of coding techniques. This makes it easier for developers to exercise creativity and generate something novel regarding their applications infrastructure, applications, and design.
Community
The open-source architecture of Apache JMeter is popular among coders as they can share their know-how with other coders. This facilitates the distribution of knowledge and robust tools to increase the skills and knowledge-base of the coding community. This is essential to tech businesses and firms that use IT solutions in order to create more innovations.