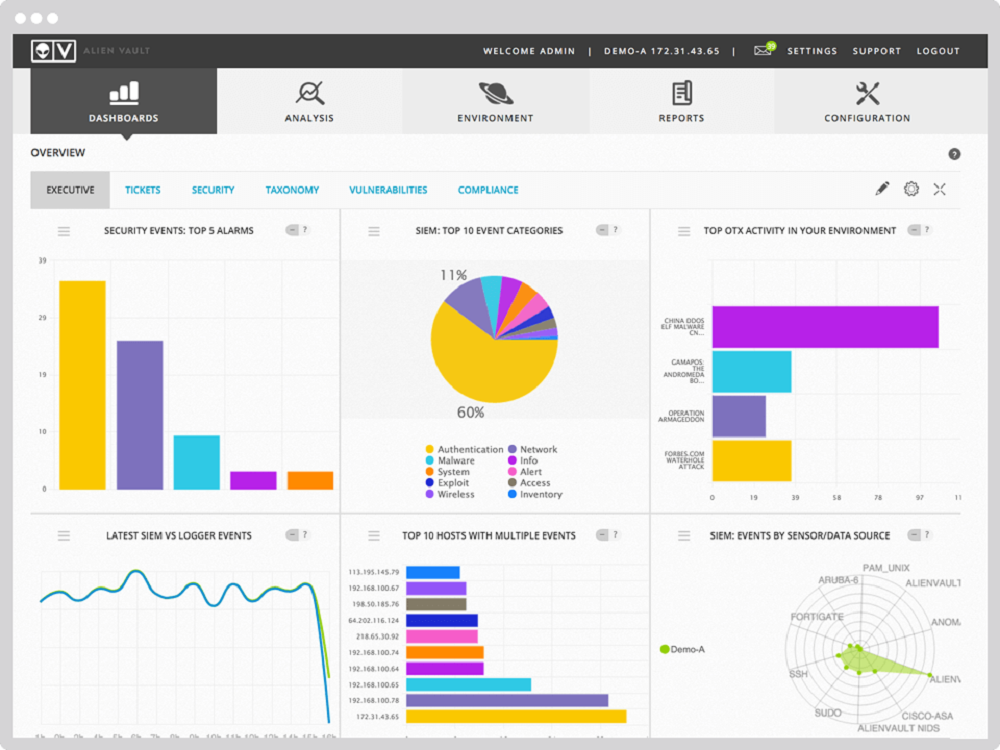 The main benefits of AlienVault are its centralized approach to threat protection, limitless intelligence through AlienVault USM Labs, and the varying options for deployment it offers. Here are more details:
Unified security platform
The platform provides a unified approach for threat detection and incident response of a business, which is helpful for aiding organizations in removing the costs and the clutter of managing various point solutions. It combines the most vital of the security capabilities in one powerful solution. Because of this, organizations can now shift most of their focus on responding to threats instead of dealing with the troubles related to deploying and keeping multiple products.
Unlimited threat intelligence
AlienVault UST also provides users with unlimited threat intelligence with the help of the system's Labs research team. The intelligence is fused with information from OXT (Open Threat Exchange) for delivering critical insights for successfully responding to the security threats an organization faces.
Multiple deployment options
The platform has multiple options for deployment, which allow it to meet the varying spectrum of business requirements. AlienVault USM provides your business with a proper solution suited for your operations regardless if your infrastructure is hosted in a data center, a public cloud, a virtualized private cloud, or a combination of them.
AlienVault USM Anywhere is designed for the use of lightweight software sensors in mind. It is capable of natively monitoring Amazon Web Services, Microsoft Azure Cloud, physical IT infrastructures, VMware, and Microsoft HyperV. Every data collection, threat detection, and security analysis is centralized in a secure hosted cloud.
AlienVault USM Appliance is an ideal solution for organizations requiring on-premise management since this is an application-based feature that uses on-premise networks for scanning, collecting and monitoring data from various infrastructures. Data collected is then stored in either a physical or virtual appliance that is hosted in your organization's infrastructure.