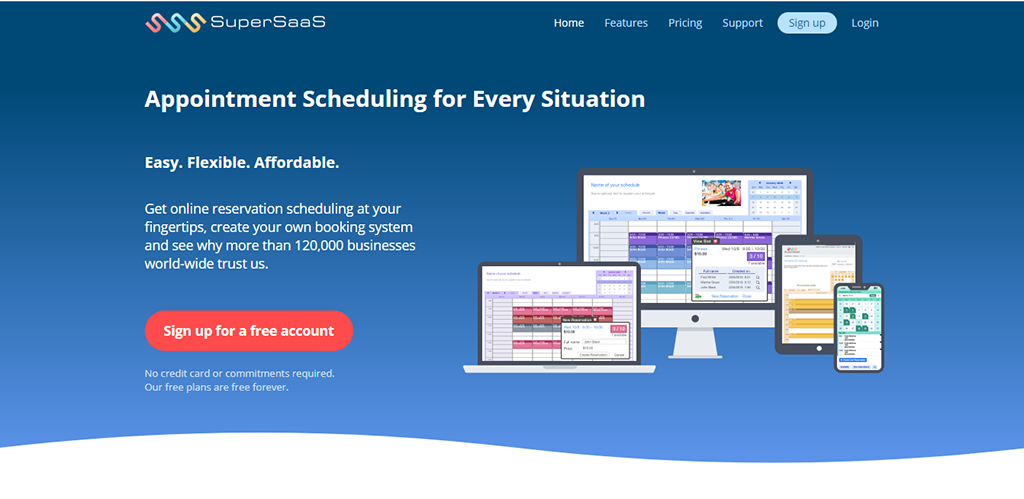 SuperSaaS helps you build an online appointment scheduling system that fits your needs. Here are some of its benefits:
Optimize online bookings
Avoid conflicts by synching your calendars like Google Calendar, Microsoft Outlook, and phone calendar with each other. If a date is taken, it will show as unavailable. Booking confirmations can also be utilized on iCal to instantly update appointments on your calendar.
Reduce no-shows
SuperSaaS can help you reduce no-shows by reminding clients of their booking through email and SMS alerts. You can also make sure email addresses used by clients are real by sending verification links.
Offer convenient payment options
SuperSaaS lets you set rules for pricing and discounts which may be time-dependent or based on chosen options. Users also like how it directly integrates with payment gateways such as Stripe and Paypal for convenience based on various SuperSaaS reviews.
Connect with your Facebook page or site
After scouring the web for SuperSaaS reviews, we found a feature heavily utilized by users: SuperSaaS' integration with your website or Facebook page. Offering the "Book Now" button increases booking opportunities as customers can book on the platform they are on. If you don't want to integrate it to your site, you can have a standalone page for your online bookings.