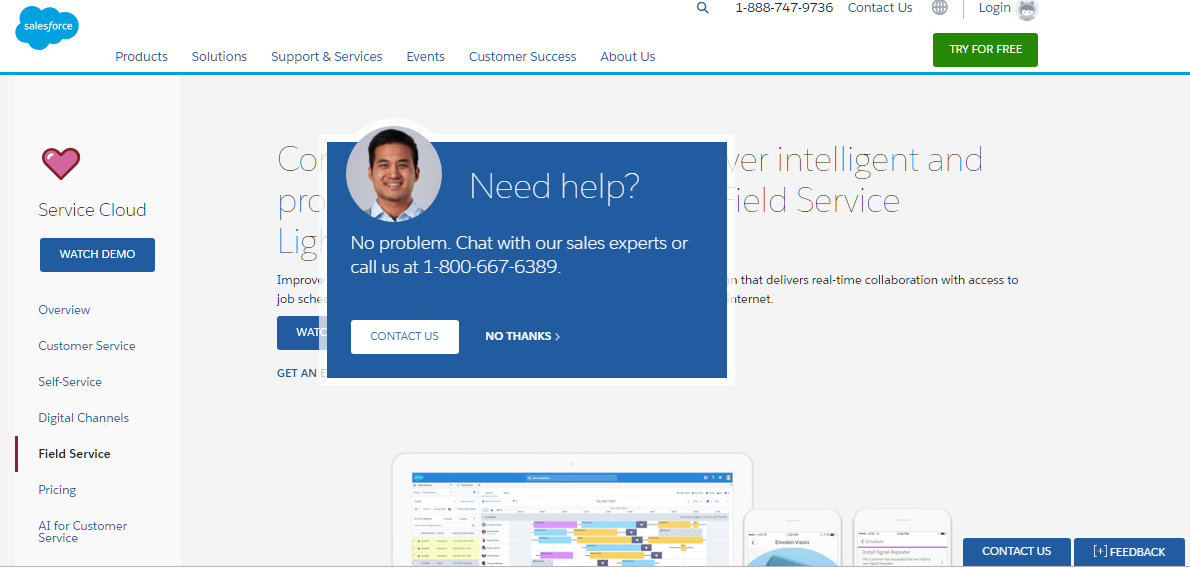 The main benefits of Salesforce Field Service Lightning are its tools that make the creation and management of work orders for any case faster, the smart scheduling feature, Einstein capability, helpful mobile applications, and analytics feature. Here are more details:
Creation and Management of Work Orders Made Faster
The system allows its users to craft and manage their work orders from any case quickly, view valuable knowledge articles in an instant, and track the SLA compliance. The work orders of the users are integrated with their assets, contacts, accounts, and cases, allowing them to pull pieces of information across Salesforce.
Smart Scheduling
Field Service Lightning features smart scheduling functionality that automatically assigns jobs to the right person based on specific factors such as location, skills, and time to boost employee productivity. Also, the platform comes with tools that track equipment, trucks, and crews to make sure that the right resources and parts for the job are available.
Einstein Vision Capability
The Einstein Vision enables mobile employees to utilize image recognition to identify assets as well as parts in photos instantly, ensuring that they have repaired or replaced the right part of the product. This reduces confusions and eliminates the need for additional trips back to their company office.
Helpful Mobile Applications
The software allows its users to access its wide array of capabilities and tools from mobile phones. By equipping your mobile employees with a top-notch mobile solution that offers Einstein AI, job schedules, real-time collaboration, knowledge articles, and inventory visibility, you can deliver resolutions on the first visit. Moreover, they can access these helpful capabilities while on the go even without an internet connection.
Analytics Feature
The software offers an analytics feature that gives dispatchers and managers easy and real-time visibility into employee's KPIs and the overall operational performance. With this feature, users can address customer concerns, drill into all the data from numerous different systems, and prevent operation and work-related problems.