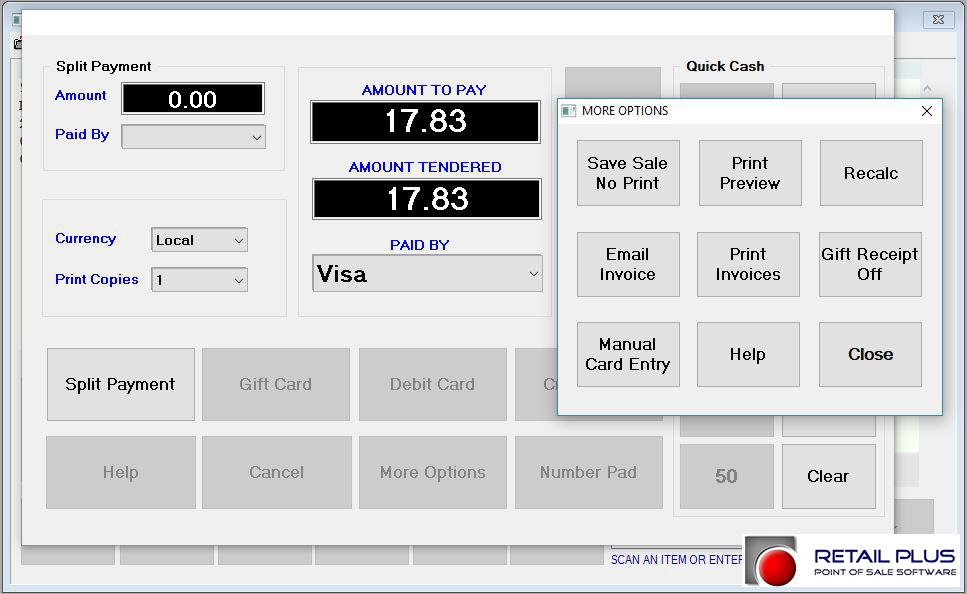 Retail Plus POS is a user-friendly POS solution for users to run their business and manage their sales and inventory. Here are some of its top benefits:

Easy-to-use point of sale

Retail Plus POS reviews indicate the platform is easy-to-use so businesses don't need to send their staff to expensive and time-consuming training. Customer checkouts with advanced features are simplified. The platform is flexible and automated for handling discounts, taxes, returns, and credits to the right customers accordingly. It also works with the latest retail devices like a cash drawer, and barcode and credit card readers, among others.
Keeps customer information
Keeping your customer information is made easy using the software's client database. It keeps your customer's name, addresses, purchase histories and lets you easily retrieve this information via name, phone number, or a point-and-shoot pick list. This is helpful for marketing and sales management where you can accurately target mailing lists to send promotions or product recalls.
Streamlines inventory management
Inventory management is streamlined to help you avoid being understocked and overstocked according to Retail Plus POS reviews. It supports various processes from receiving and transferring stock to importing and exporting stock data. The platform's inventory control system has no size limits, supports multiple inventories, and auto-generates purchase order, among others. Transmitting inventory updates stock levels and sales logs between stores or to and from the head office in real-time through cloud technology.
Tightens system security
Retail Plus POS guarantees your transactions are secure in the system. Its password security features limit the access of users to programs and functions to avoid unauthorized transactions and exposing confidential information. Employees are assigned a password that determines their access level. Additionally, it has rollback security to restore data from a previously saved session. In case of errors, this simplifies undoing and correcting mistakes in sales, client, inventory and invoice data.