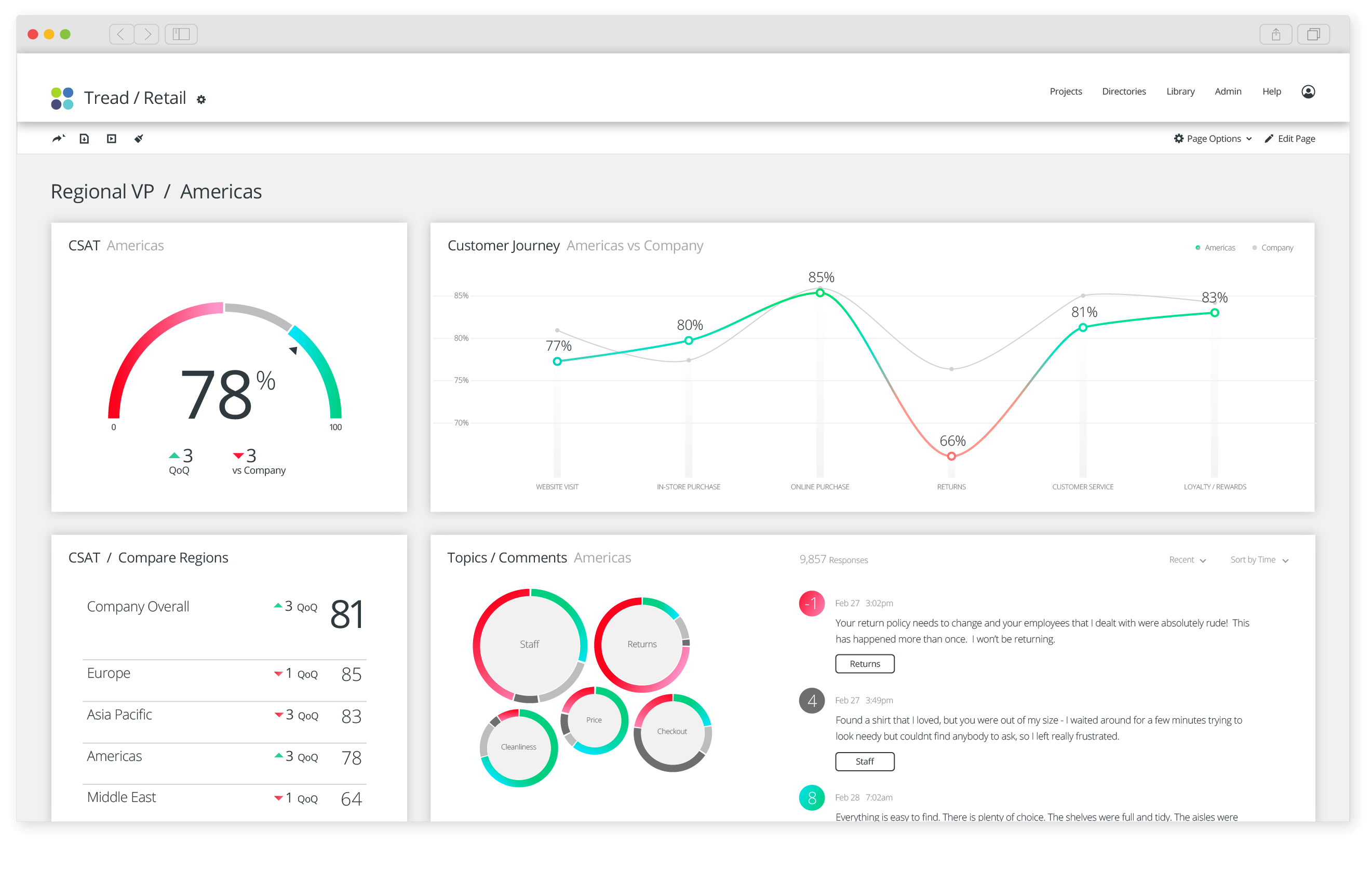 The main benefits of Qualtrics are its rich feature set, customizations, and ease of use. With Qualtrics Customer Experience, businesses get all the tools and features they need to measure and monitor customer experience. Check out some of its benefits below:
Customizable, role-based dashboards
The customizable dashboards make it easy for companies to simplify how they respond to customers as well as how they see important metrics. The role-based dashboards also give managers a comprehensive view of data within their scope of influence, as well as on local, regional, and global levels. Key stakeholders can use company metrics to align and segment data, too. Real-time updates are part of the dashboards' features, and automatic notifications and closed-loop ticketing to address negative experiences can also be set up as well.
Targeted CX solutions
With Qualtrics Customer Experience, respondent management is automated. It has aggregate analysis tools, pre-loaded projects, tech-powered workflows, and action plans, as well as industry-customized dashboards. All of this results in a rounded view of respondents and can result in a better relationship with customers. With Qualtrics Customer Experience, deeper insights are generated, research productivity is leveraged, response rates are increased, and the brand is perceived in a much better light.
Centralized view of all channels
Potential miscommunication errors and inefficiencies are removed thanks to the fact that data can all be accessed on a single platform. Feedback can be gathered from customers seamlessly, whether through SMS, social media, email, call center, or website.
Visibility of key metrics
Companies will find it easy which features of their product they should highlight as Qualtrics Customer Experience gives them a long-term and short-term view of the data on their dashboard. This data can be used to convince stakeholders and decision-makers on which metrics and features to prioritize.
Advanced research and analytics
Qualtrics Customer Experience is great even for less technologically-adept users, as surveys can be created, tested, and modified efficiently, even if the user has no knowledge of coding. The platform provides over 100 question types as well as advanced survey features. Analysis of open-text responses and sentiment scores are automated, and digital user targeting is streamlined. Complex regressions can be easily conducted and relationships can be determined using the platform.
Ticketing management
Ticketing management allows users to set which customer experiences should be prioritized and addressed promptly. Negative experiences can be flagged so it can be responded to in a timely manner and not result in a decrease in customer satisfaction.