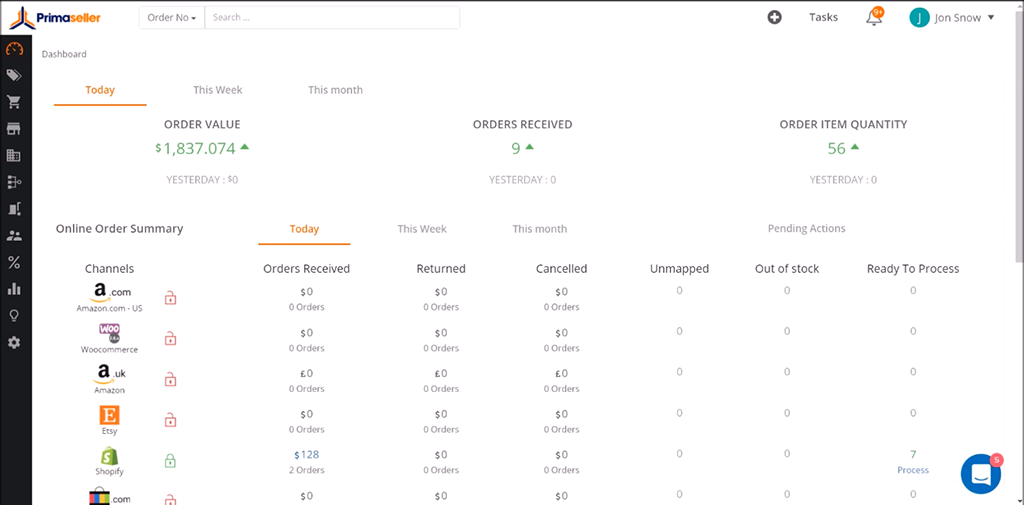 Primaseller offers a complete solution for running a retail business. Here are some of its benefits:
Handles point of sale
In our Primaseller reviews we noted the software's multi-store and multi-register feature. It prints and scans barcodes and emails invoices to customers. It also provides a single consistent catalog across stores and syncs inventory by connecting your website and marketplaces. This simple web-based application works on all devices where you can collect payments through integrated payment portals.
Manages online and B2B orders
E-commerce orders from Amazon, eBay, and your online storefronts are downloaded to the app for fulfillment. Through centralizing eCommerce orders, you can block orders for inventory in real time to ensure you maintain an accurate and up-to-date stock count. It also integrates with leading shipping providers such as USPS, UPS, and DHL to easily ship all your orders.
Provides a connected solution
The built-in multi-location POS software connects your brick-and-mortar stores with your ecommerce website to sync orders and inventory. It also centralizes B2B orders, marketplaces and purchase ordering. Meanwhile, invoices and POS are automatically synced with QuickBooks.
Unifies business relationships
Primaseller reviews reveal the tool's automated purchase orders enable you to handle suppliers and your procurement process with ease. You can also easily create and manage orders for your customers. The user-friendly tool offers a single customer database across your retail stores, ecommerce channels and offline sales for consistency and accuracy.