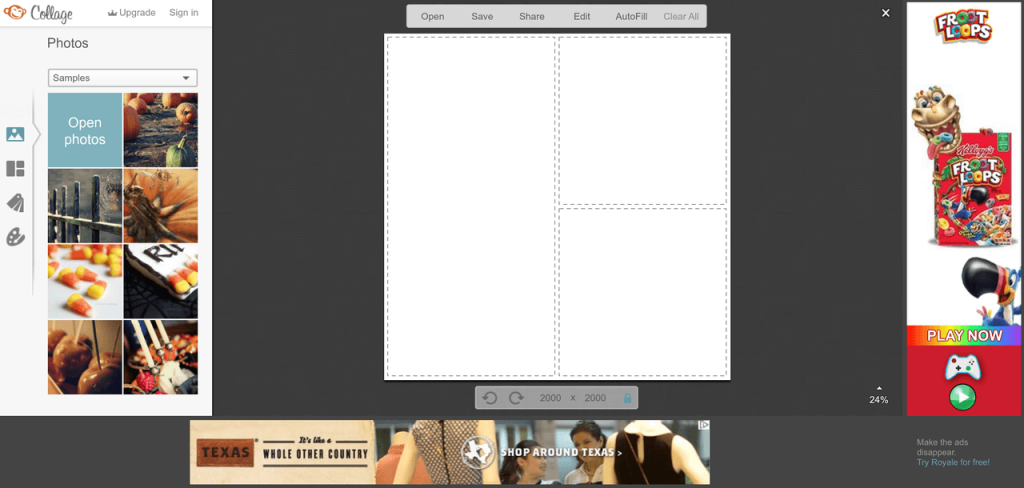 The main benefits of PicMonkey are its wide range of font styles, numerous color options, various overlay selections, easy-to-use editor, and flexible editing choices. Here are the details:
Wide range font styles
The text tool of PicMonkey is outstanding as it can add text to photos to give them an understandable graphic design. PicMonkey provides a font book which contains a large library of word font styles. Simple font styles like Didact Gothic and Geo Sans Light can be found in this font book. Scripts and hand-lettered fonts are also available. Lastly, users can add any fonts that are not in the font book.
Choose the unique color you want
Users can also change text color, align text to certain positions, grow or shrink it, and bring it to background or foreground as much as they like. When changing text color, PicMonkey has a simple tool for it. Users can just select a color through typing and pasting the color code they want. They can also copy their usual color codes for faster access and convenience during work.
Overlay selection
PicMonkey also provides a large selection of overlays. These overlays vary such as little animals, cute animals, critters, smokes, stars, hearts, labels, lines, and banners. They can also be resized, moved anywhere on the page, and even change its color or transparency.  Using overlays is optimal for making great thumbnail images.
Ideal for selfies
Lastly, PicMonkey also has a specialized feature made for selfies, portrait photography, and family photos. This feature is called Touch Up and offers picture enhancement tools to help users beautify their photos to share in social media. The features include teeth whitening, lip tinting, eye brigthener, and skin smoothener.