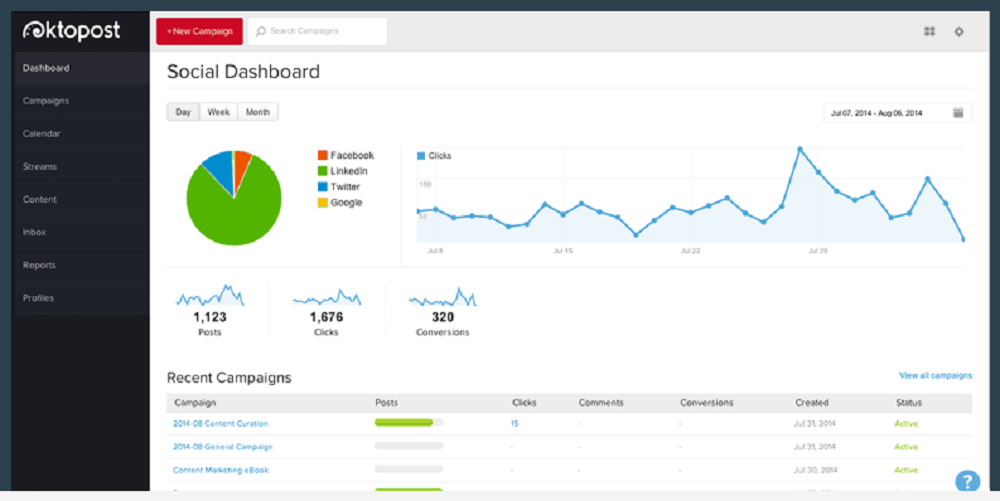 The main benefits of Oktopost are its effective content discovery and management capability, schedule posts, on-topic discovery and sharing capabilities, and seamless integration. Here are more details:
Effective Content Discovery and Management Tool
Unlike other systems that focus on brand awareness and engagement, Oktopost helps you determine and distribute content that will give value to your business. In social media marketing, content is what will set you apart from the competition. The more value you give to your audience, the better your online reputation and presence will be.
Schedule Posts
Manual social media management can be time-consuming especially if you are taking care of more than just one account. Oktopost allows you to schedule your posts so you do not have to spend time and effort to post manually every single day. All you have to do is plan and organize your marketing activities and schedule your posts in advance for all social media platforms such as Facebook, Twitter, Google+, Linkedin, and more.
On-topic Discovery and Sharing Capabilities
Another notable feature of the platform is its successful content curation. After scheduling the posts, the platform helps you discover and share engaging topics related to your industry or niche, making your brand a valuable source of information.
Seamless Integration
Oktopost also allows seamless integration with different third-party applications and platforms such as Salesforce, Magento and other leading eCommerce platform as well as with a number of prominent analytic systems and business intelligence. All of these and other incredible features can be accessed via flexible, quote-based pricing plans.