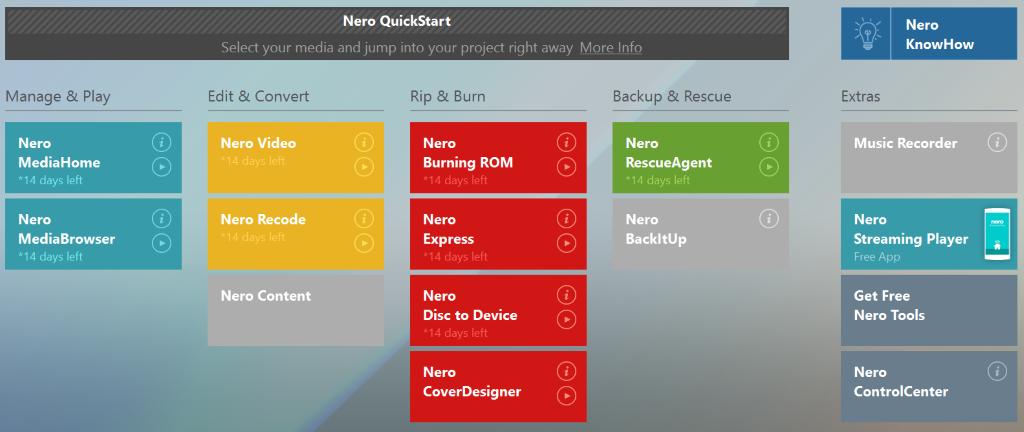 The main benefits of Nero Standard 2018 are its set of modules that allows users to manage, edit, convert, play, and burn multimedia content. Specifically, here are the advantages users can expect from the system:
Digital Versatility
Nero Standard 2018 offers a mixture of modules that allow users to do media editing, file conversions, burning content to discs, and playing multimedia files.
One-Click Access
The platform's Nero QuickStart module helps users gain one-click access to commonly used features in bringing multimedia content to life.
Simplified Menu
The Nero Launcher makes it convenient for users to easily access the suite. The launcher offers a menu to all functionalities in the software presented in a concise and user-friendly manner. It's basically an extension of the "Welcome" screen that's segregated into easy-to-access blocks.
Main tasks are conveniently situated in one location for easy access and quick use. Modules are arranged into home screens and drop file zones that allow users to do their projects from start to finish with ease.
Cloud Storage
Nero MediaHome is another module that purposely serves as a cloud storage for multimedia content. This functionality allows users to access and extract files whenever and wherever. This ensures the file is securely stored and protected from unauthorized users.
Robust Security
In addition, Nero Standard 2018 utilizes its own Nero SecureDisc to ensure security on all data. The functionality speeds up processes and keeps each disc functional and secured.