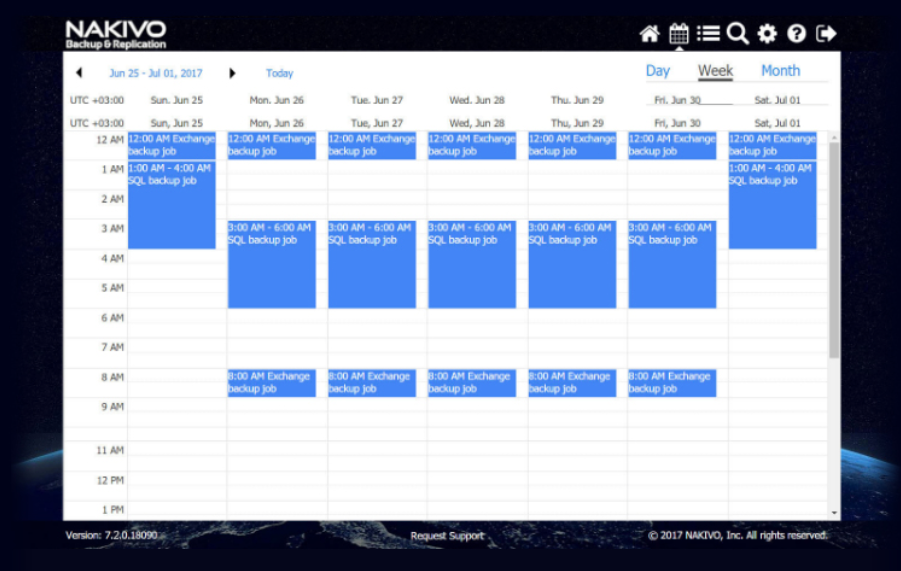 The key benefits of NAKIVO are its reliability, great backup performance, and an enhanced recovery rate.  See the benefits in details below:
Safe and Effective Backups
NAKIVO improves your VMWare Backup performance and reliability. It also enhances the recovery rate. These are three crucial storage procedures that NAKIVO does really well. Users can deploy the system in just around a minute. You can install it on Synology, WD NAS, ASUSTOR, or QNAP to form a 4-in-1 backup appliance. You can also switch to LAN-free data transfer mode to increase network speed. Furthermore, NAKIVO tests the effectiveness of your back up strategies automatically. It cuts down the application transaction logs of SQL an Microsoft Exchange enabling you to instantly recover entire VMs, Active Directory objections, SQL Server, Microsoft Exchange, and other files.
NAKIVO's Hyper-V Backup solution includes many types of recovery options. With it, you can enjoy instant file, SQL object, and Exchange recovery. A full VM recovery can be done to the same or even a new host. Copies are save offsite and Azure/AWS clouds. Furthermore, you will get up to 1,000 GFS recovery pints per VM backup.
The native Backup & Replication features work to reduce backup time. NAKIVO is built to support both large and distributive systems. This makes it scalable with your business whether you should decide to have a single datacenter setup or employ a geographically distributed data centers.  
Furthermore, AWS EC2 Instance Backup has been made part of the package. This is especially useful for users that need forever-incremental backups. In NAKIVO, transfers are only done with changed data and saved to your backup repository. This can be done whether your repository is located in the same Amazon EC2 region or some other location. Furthermore, NAKIVO provides more safety layers as it sends the whole of your VM backup copies to cloud storage services such as Azure. Regardless of your repository size, your data will always be safe because of such procedure.
Effective replication
NAKIVO creates and maintains identical copies of a source VM, Hypr-Vs on a targeted host, and EC2 on an ESXi host. This cuts down the risk of losing data and shortens the duration of downtime. In this way, your company will reach your recovery point objectives (RPOs) and recovery time objectives (RTOs). When these are hit, you can return to your fully-functional state very quick when unwanted events occur. The Backup & Replication feature has the Application-Aware mode. This ensures your data found in replicated VMs that run applications and databases are consistent.
Instant Recovery
NAKIVO add individual VMs and VMware containers like folders, clusters, hosts, and resource pools to replication processes. This ensures all important files have copies you can use. In this way, you can restore your original virtual infrastructure and return it to its functional state in an instant. NAKIVO will then replicate your VMs to your production site through activating the new replicas so that they can take over the role of their sources.