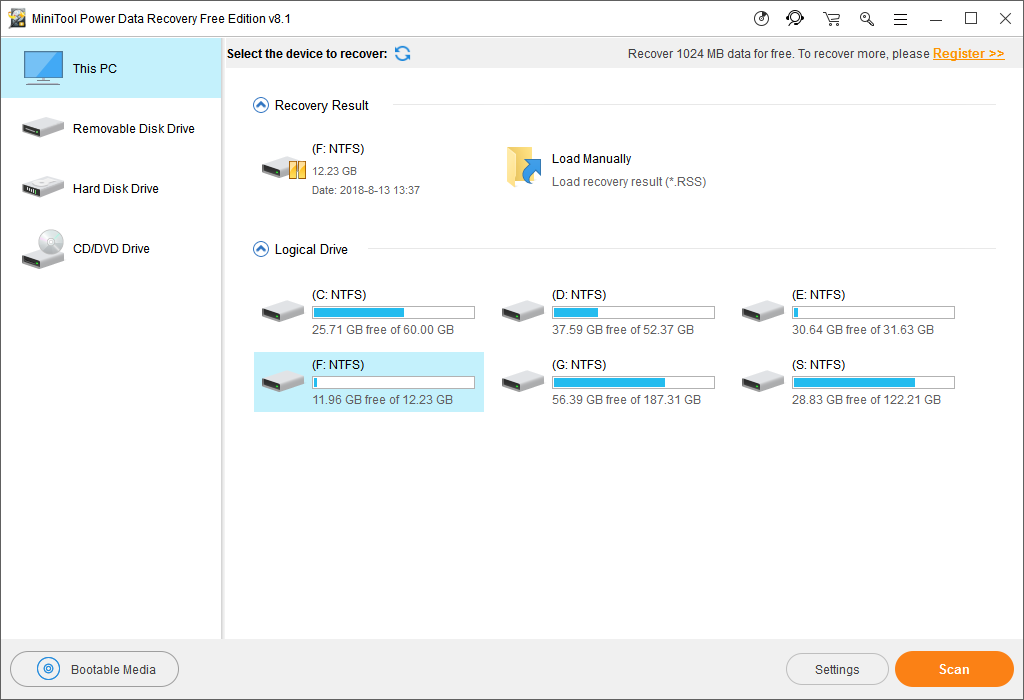 The main benefit of MiniTool Power Data Recovery is it allows you to recover lost data in an easy recovery process. As long as it is a storage data device for PCs and cannot be accessed, MiniTool Power Data Recovery can retrieve data from it. This app works for Windows and Mac PCs, which technically allows you to recover data from most computers. Here are more details:
New Changes in version 8.0
In this update, MiniTool Power Data Recovery received some bugfixes, more language support, data scan tool, a recovery module, and a fresh interface.
New Interface
The V 8.0 interface has added function modules, a few small options,  disk or partition layout,  new buttons, and a fresh coat of paint. While new functions were added, the tool is still easy-to-use.
Four Recovery Modules
MiniTool Power Data Recovery Version 8.0 has recovery modules for CD/DVD Drive, Removable Disk Drive, Hard Disk Drive, and for the PC its installed on.
Improvements to Old Features
Recovery Result
Previous scan results can still be accessed in version 8.0 and can still export the recovered file (.rss file) loaded into a PC. These two features are available for all recovery modules except for the CD/DVD Drive. The current version also shows the disk or partition size and date of the scan.
Document List
Version 8.0 also displays a clear file list of recovered files. The file retrieved will have the original name and its other settings, which will help you greatly at recognizing the files you have lost.