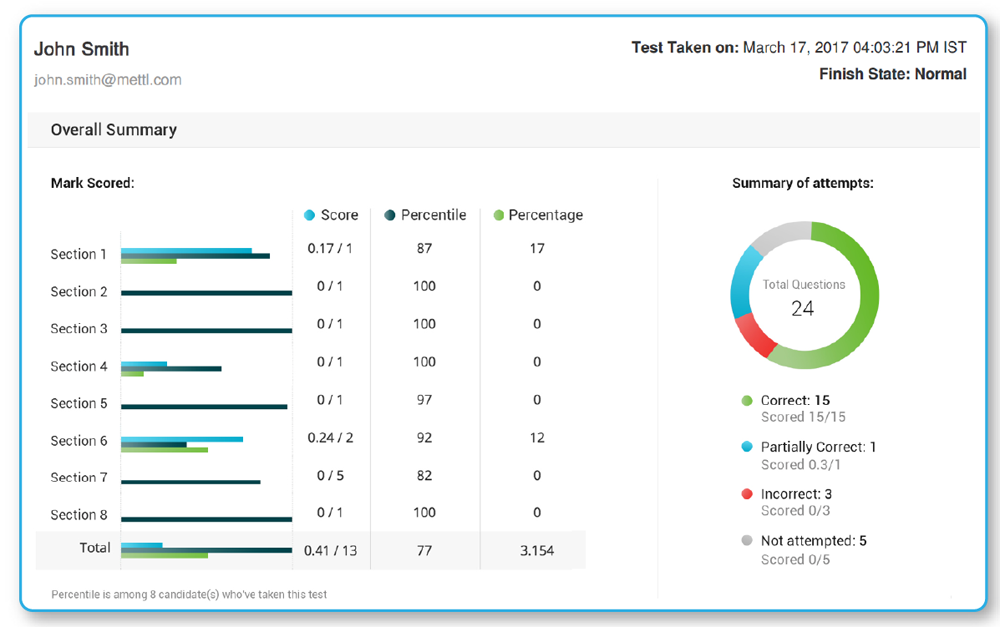 The main benefits of Mettl are convenience, security, and accuracy.
Convenience 
With Mettl, it is easier to study applicants and discover their competencies. It has assessment tools that can measure cognitive ability and personality. Thanks to AI, it is possible to auto-evaluate how they speak. Using technology, Businesses will achieve their objectives faster. Mettl can also hold online exams to make workflows more seamless. And with the help of data, businesses can know more about their applicants. Exams can be customized or taken from Mettl's test library. 
Security
The best applicant tracking software gives you peace of mind in terms of security and transparency. Mettl's ProctorPLUS prevents the candidate from surfing the web during the exam. It will flag any suspicious activity it detects from the examinee. Auto proctoring has facial recognition to authenticate the identity of the candidate. It can also detect multiple people and other devices. But if the proctor wants to see the examinee answer live, they can with live proctoring and test logs. With a 95% cheat prediction accuracy, Mettl can preserve the integrity of any exam.
Accuracy
Mettl has numerous tests for the applicant, ranging from cognitive, behavior, to personality and technical skills. It even uses data to know its candidates more. Mettl's assessment platform technologies help paint a clearer picture of applicants. ACDC tools even go in-depth by evaluating candidate behavior.