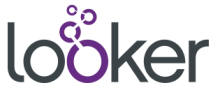 Price: by quote
Our Score: 93%
What is Looker?

Looker is an intuitive, self-service data exploration solution hosted in cloud. It offers extendable functionality for the needs of both small and large teams that can discover critical data and generate reports in seconds. The solution is equipped with robust collaboration and sharing features, and stores and protects data in an operable knowledge base that teams can utilize to make smart business decisions.

Rather than importing charts from Excel spreadsheets, Looker enables you to create your own visualizations and graphs. With just a little bit of SQL coding knowledge, you can create all the collaboration and exploration models you want, and at the same time preserve key data distinctions and regular analytic tools.

Looker is also competent in web-based data and supports more than 20 variations including BigQuery, Vertica, Hive, and Spark. This means you can use it in complex and large installations and process the required terabytes of data you need per month. The solution provides a single, fully-responsive version for all devices as well as robust APIs that you can use to integrate it with a range of third-party apps and systems.

In our Looker reviews you'll learn more about the software's benefits, pricing, technical specs and more.
Main Features
Browser-based interface

Charts & graphs

Collaboration suite

Customization

Easy creation of dashboards

Extensible modeling language
Fully customizable and exportable reports

In-database architecture

Live connections to all SQL databases and infrastructures

Open API

Real-time data exploration
List of Benefits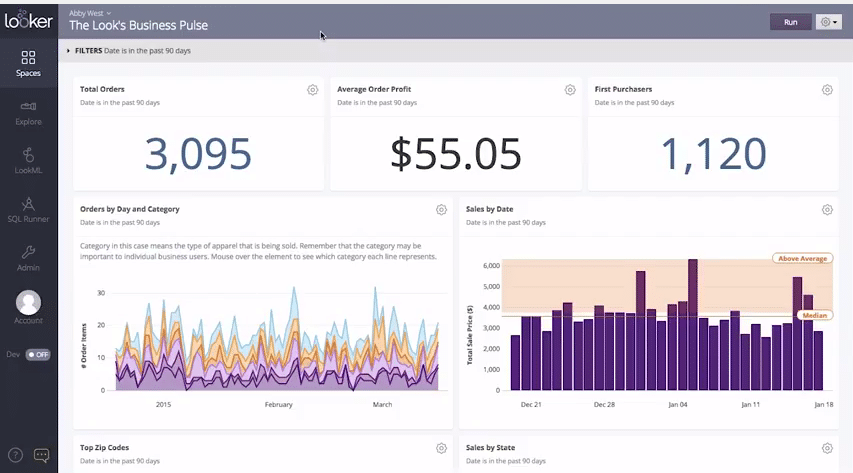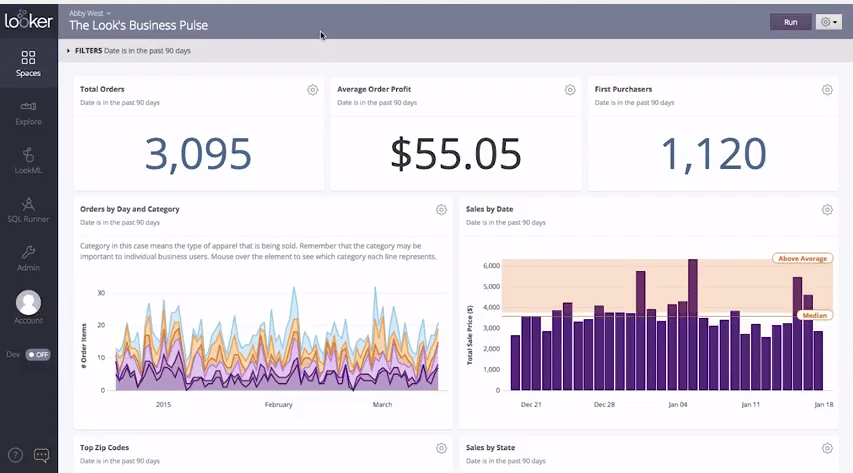 Looker helps organizations improve their business decisions as it offers accurate, real-time data insights. The amount of data doesn't matter – Looker's 100% browser-based solution integrates smoothly with all SQL bases and data warehouses including Greenplum and Amazon Redshift.
The main advantage is you don't have to be an SQL expert or professional data analyst to use Looker. Coding is made easy, and even lay users can drill across charts and tables and create dashboards. The main features offered include self-services such as advanced filtering, custom visualizations, and pivoting.
Looker also stands out as an excellent collaboration application that is accessible on all browsers and devices. You can easily exchange data and share URLs and reports in your emails. Another benefit is you can use the app's seamless integrations with third-party platforms to export and import information. Currently, Looker works great with Microsoft Excel and Google Docs and you can use its open API to integrate it with other systems. Plus, the system's robust reports can be exported manually either as .CSV or text files.
Among the many advantages we cite in our Looker reviews is that it has its own understandable and flexible language known as LookML with specific syntax, using which you can explore data in way you prefer, or extend the platform's SQL efficiency by creating various data organization models. The app's developers selected a homegrown language approach to facilitate time-efficient query execution and also to optimize performance.
Finally, another advantage of this system is its quote-based pricing. You can contact the vendor and request a package tailored for your unique needs and budget. Take a look at this Looker review if you're interested in getting even more details on how this software works and how your company can benefit from using it.
Technical Specifications
Devices Supported
Geographies Served
Pricing Model
Customer Types
Small Business
Medium Business
Large Enterprises
Deployment
Available Integrations
Looker provides APIs for integration with custom or third-party software solutions.
Video
Available Support
Email
Live Support
Training
Software Pricing
As mentioned earlier, Looker is a quote-priced software app, where each customer gets a package customized for their needs and budget. Contact the vendor for more information and get your quote.