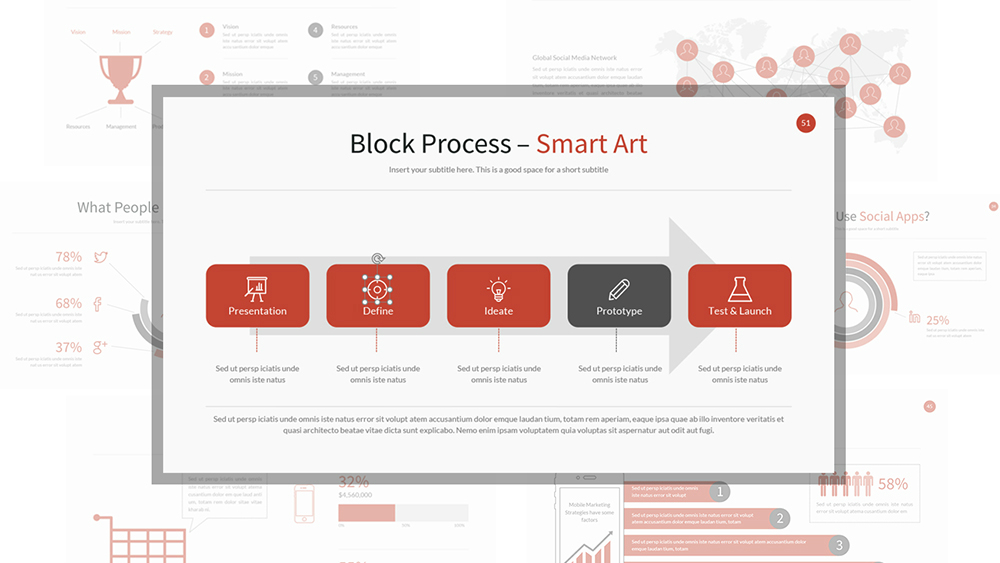 Why should you try out this product? Our iSlide reviews provides you its many benefits:
To start, iSlide offers more than 180,000 built-in PPT templates. These resources are constantly updated and fast retrieval is facilitated to help you quickly find the material you need. In addition, iSlide smart charts make the information easy and intuitive to understand.
You can get your desired PPT design in three easy steps: Select the theme, insert icon, and add text. The platform's one-click function makes it simple to create attractive PPT presentations.
iSlide reviews indicate that you can effortlessly assign usage rights and self-management, and provide a multi-user management system. Plus, the software facilitates custom development of different kinds of PPT templates as per the characteristics of enterprise solutions. Business users can share exclusive content among their employees and upload resource management.
For higher-frequency PPT designs, you can build custom functions based on business requirements. Build standardized and professional PPT presentations by adding the styles, colors, paragraphs, and fonts you want. The replication arrangement and graphic layout in each PPT page is smart and efficient. In addition, different parameterized settings help to meet personalized design needs.
Topics in the new theme library include layouts, back covers, covers, effects rules, colors, and fonts to enable you to effortlessly develop professional PPT files. The color library offers color collocation and combination schemes that can be chosen by color system. They can be replaced with a single button click to get unified application of document color.
The graphic library contains more than 4,000 full vector designs, functional graphical templates, and adaptive PPT theme color layout and matching rules. With the smart chart feature, you get real-time preview of chart editing, intelligent adjustment of data parameters, and attractive personalization charts in the PPT documents.
The new photo gallery offers free images via the Creative Commons protocol that can be utilized anywhere. You can quickly search and insert the images in your PPT files with a single click. Finally, the icon library hosts more than 100,000 flat resources, a key to insert into PPT, and any download, and the icons can be easily modified according to needs.