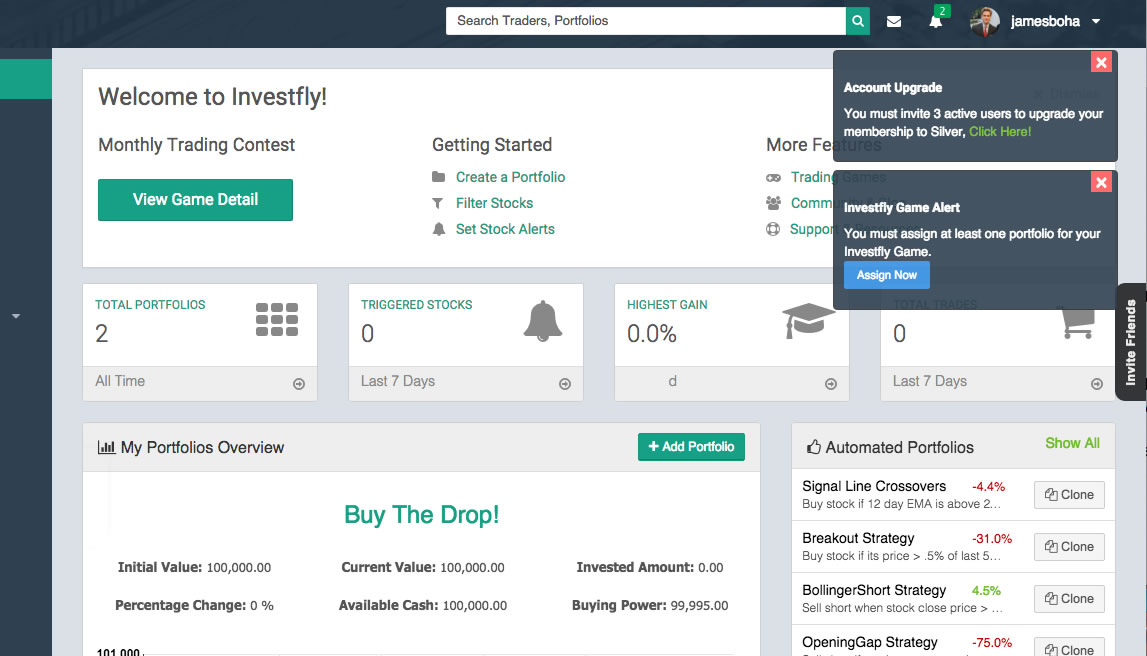 The main benefits of Investfly are its automated trades, stock screening and historical testing capabilities, trading strategic gains, stock trades notifications, and virtual and live trading. Here are more details:
Automated Trades
Investfly lets users explore new trading selections through automating them in particular conditions. With this capability, users can also provide parameters like target profit, reserve cash, etc., ensuring that they will not suffer a lot of loss and have some reserve cash.
Stock Screening and Historical Testing Capabilities
The platform also offers stock screening and historical testing capabilities. The latter comes with a five-year back-testing which provides users with more insights about their trading strategies and acquire more knowledge on the market. It also allows traders to run simulations based on the historical data they have. Stock Screening, on the other hand, can be used to filter stocks and then trade just within those limits.
Trading Strategic Gains
Investfly also helps its users learn more and understand the stock market. There is a library of tactics which users can explore, emulate, modify, and learn from.
Stock Trade Notifications
Investfly features stock notifications which keep traders religiously updated about their favorite stocks and connected to their own portfolio even when they are not connected to the internet. This helps them ensure that they won't miss any opportunity for gainful trades as well as potential profit increase.
Virtual and Live Connection
Beginner traders can start with virtual trading and proceed to live trading once they become more confident in their strategies and skills. The app itself also connects user's trading accounts with the Trader Brokerage & Interactive Brokers which lets users practice running strategies and applying them to actual trades immediately right from the software.