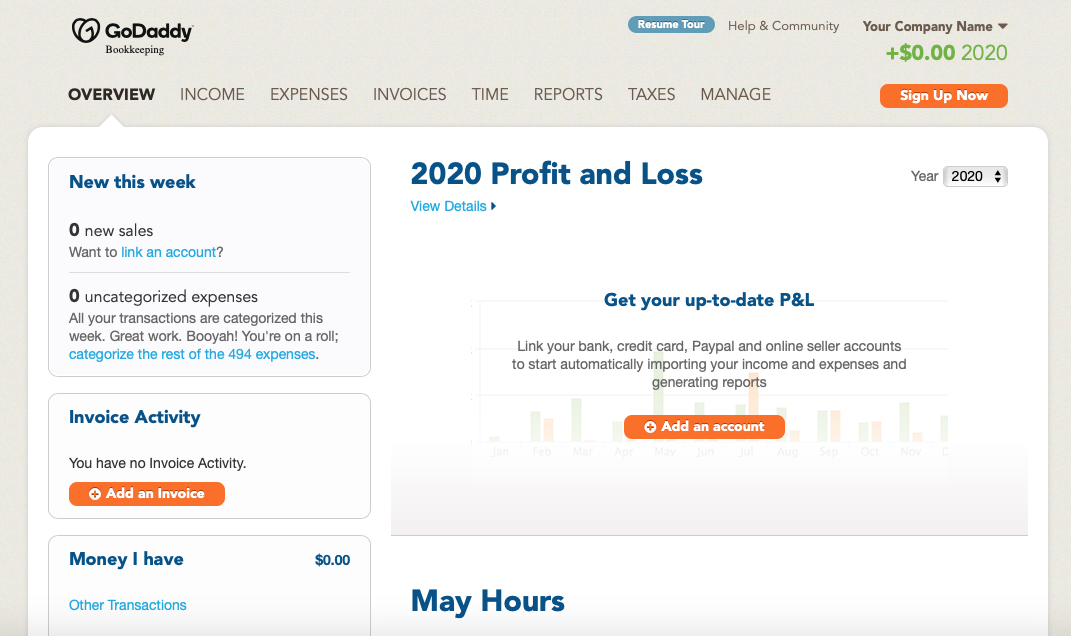 The main benefits of GoDaddy Bookkeeping are easy bookkeeping, create, send and track invoices, simplified taxes, mobile access, and bank-grade security. Details of the benefits are as follows:
Easy bookkeeping
With this accounting system, you can manage your finances even if you aren't an accountant. GoDaddy Bookkeeping simplifies the entire procedure by importing all data from your business accounts. You can view sales, expenses, P&L reports, and mileage from the app.
Create, send and track invoices
You can send professional-grade invoices in under five minutes. You can track time spent per customer to learn more about your costs, and be alerted when clients or suppliers have viewed or paid your invoices. You can also setup online payments directly to your bank.
Simplified taxes
GoDaddy simplifies tax returns so you can generate and file your taxes in a matter of minutes instead of days. GoDaddy Online Bookkeeping automatically categorizes sole-proprietor or LLC transactions into IRS tax categories, so you can generate a Schedule C worksheet and have your other tax details ready for handing over to your tax accountant or your tax software.
Mobile access 
Your store is online, so your finances should be the same. Simply log in to your browser or use the mobile app in iOS or Android devices to check your running balance or sales for the day.
Bank-grade security
Your financial data is secure in GoDaddy's servers, and GoDaddy Bookkeeping uses 256-bit data encryption security, which is standard for most major U.S. banks and financial institutions, to ensure they stay private.