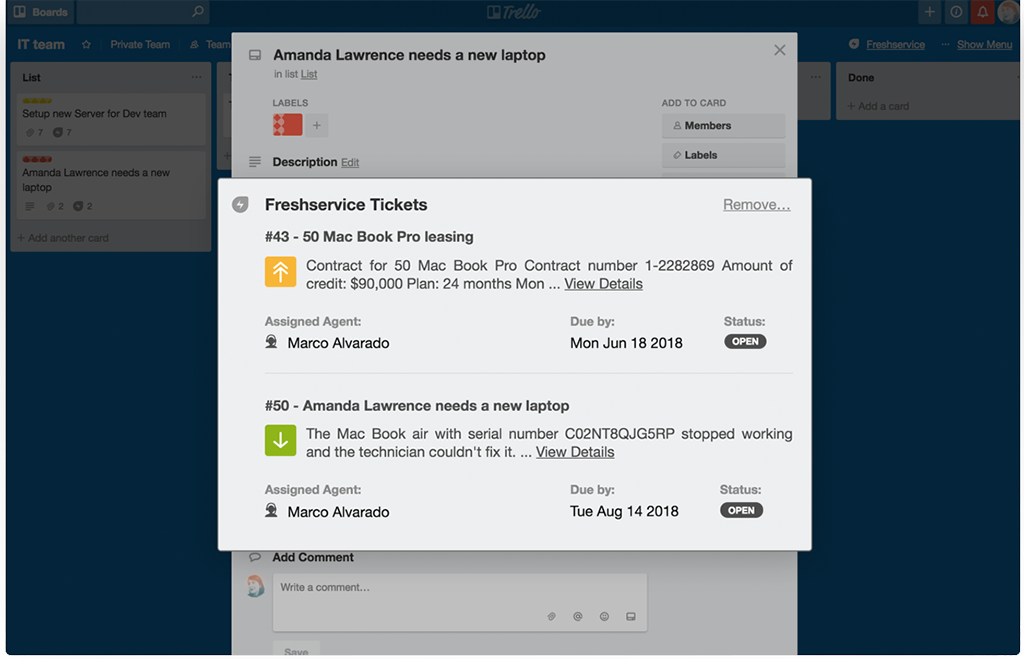 Freshservice + Trello offers an efficient solution for resolving tickets faster through seamless collaboration. The integration of these two robust systems offer the following benefits:
Better service desk organization
Freshservice + Trello reviews detail that the integration between the two platforms enables you to insert and create support tickets into Trello cards. You may connect your Trello boards to Freshservice by attaching the tickets into the Trello cards or by building them from scratch. This accelerates the syncing of data so you don't have to go through the trouble of manually transferring information.
Seamless collaboration                            
Connecting Freshservice and Trello result to faster ticket resolution. Trello gives you visibility over a project in process, what it is, and by whom. By utilizing this functionality right in Freshservice, the improved collaboration helps you save time and decrease escalations as all information your support team needs is already on a single platform.
Easy integration process
Implementing the integration of the two cloud-based systems is quick and easy according to Freshservice + Trello reviews. The Trello app simply needs to be installed in your Freshservice service desk. You can then connect the Freshservice power-up in the Trello project management tool. After these two steps, tickets on Freshservice can immediately be synced with Trello boards and cards.