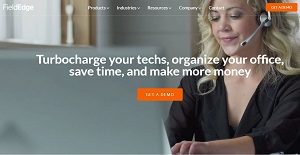 The main benefits of FieldEdge are delivering efficiency and functionality, connecting those in the field with the in-office staff and making scheduling and billing smooth. With the paperless transactions and security of information data is quickly transferred to Quickbooks so that data storage is minimized and chances of error are eliminated.
FieldEdge is also available for Android and iOS mobile devices for all around availability and mobility, allowing for up-to-date connectivity. This feature helps your technical staff improve their salesmanship and, at the same time, help your management monitor the marketing activities for improvements.
The FieldEdge Office features helps you in assigning roles and schedules to your employees. Transactions are integrated into QuickBooks and come with an interface designed for reports. This also applies to the mobile app which includes CRM, quotes, price presentation and invoicing. The solution is meant to maximize your income and help you organize your schedule and billing management.