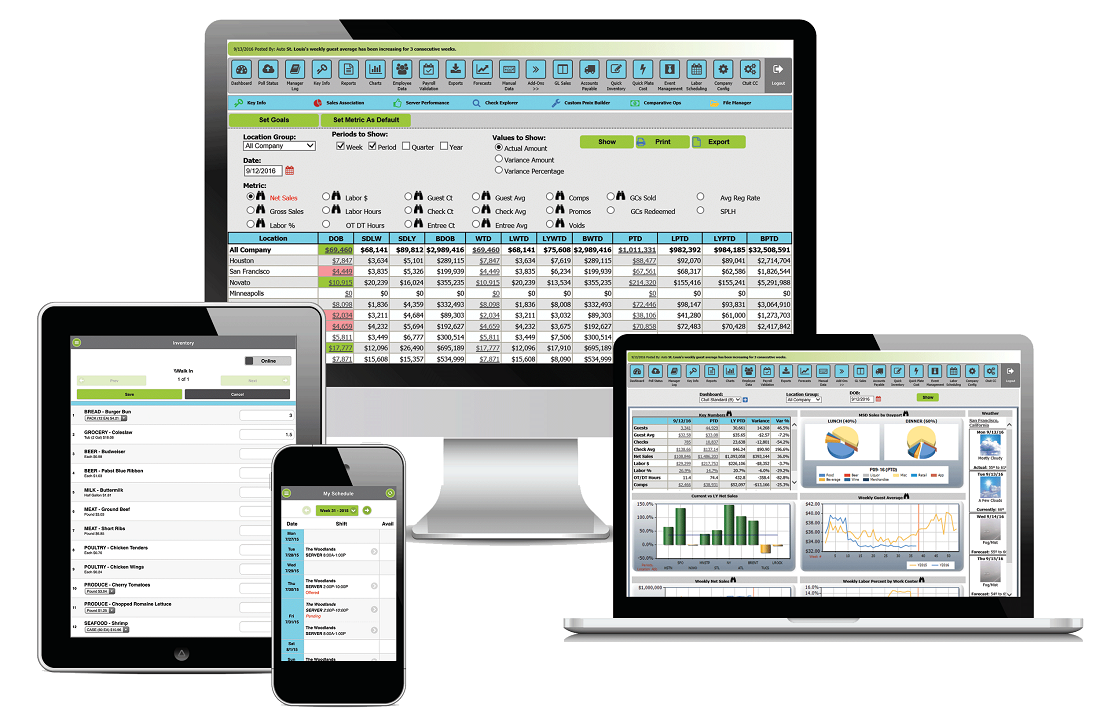 The main benefits of Compeat are its intuitive dashboard, efficient approach to financing management, simplified management of talents, and time-saving inventory system. Here are more details:
Smart dashboard
The system is equipped with a customizable dashboard called Compeat Intelligence which can display overviews of various aspects related to the operations of a restaurant. This allows food businesses to easily identify the trends that other branches should be informed about. It can also determine the areas which generate the most and the least revenue.
Streamlined accounting
Compeat Accounting helps inform restaurants about their financial situations. This tool is equipped with features that are specially made for managing restaurants, hence giving food businesses total control with regards to their bottom line. It can be used to reduce losses and spending and keep their budget on the black through comparison of actual vs ideal costs. It is also complemented by a strict security measure where every change is automatically logged, making it easier to trace discrepancies.
Easy talent management
With the system's talent management tool called Compeat Hire, restaurants are able to increase the range of their scope when looking for potential employees with ideal capabilities. The tool is able to link hiring posts to professional social media platforms such as LinkedIn and Indeed. The links created for job posts also have their dedicated URLs, which means that it can be shared on other platforms as well.
Inventory system
Inventory management is made easy with Compeat since it is a feature integrated into the Accounting module, which allows for an effortless reconciliation of orders and bookkeeping. Food businesses can also use the inventory management tool in creating a new item for the menu and for changing their food offerings. This removes the need for a menu and recipe keeper, thus saving time and expenses.