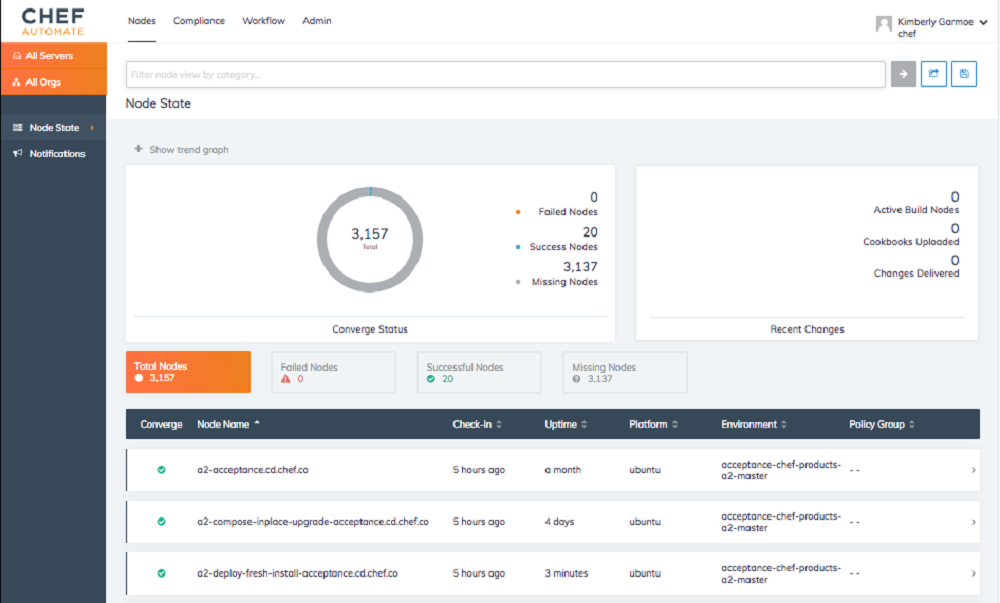 The main benefits of Chef.io are the unparalleled automation it provides to organizations, its high scalability, and its great versatility thanks to the system's wide support for integration. Here are more details:
Unprecedented automation
Chef.io sports unmatched automation, which results in flexible and fast IT. It can provide simpler ways of building, managing, and deploying IT offerings that can save time since manual work processes are eliminated. Another benefit brought by Chef's automation is the reduction in the number of errors coming from configuration drift and non-compliant nodes. Also, environments can be easily reproduced after the failures.
Furthermore, users are also treated to huge infrastructure automation, which allows them to build code-based models for their infrastructure. This also results in servers being consistently deployed and applications scaling accordingly while aligning resources with business goals and policies at the same time.
Scalable
The platform is ideal for all scale of systems. It can manage 50 servers on Azure or AWS and hundreds of thousands of servers in multiple data centers. It can also handle private or public clouds and even hybrid environments. These multiple options mean easier and safer delivery of flexible and fast IT. Aside from that, Chef ensures the continuous delivery for infrastructures and applications using the robust pipeline it's equipped with.
Versatile
Chef.io has a great versatility that allows users to fully optimize all their cloud strategies. This is thanks to the system's seamless integration with major services in the cloud such as Google Compute Engine, VMWare, Amazon EC2, Windows Azure, IBM Smartcloud, and HP Cloud. With this, users are furnished with all the things they need to maximize the effectivity of their processes.