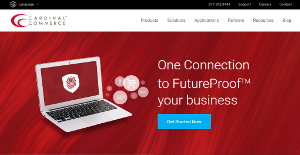 The main benefits of CardinalCommerce are it enables you to stay on top of your authentication process, integrates with various payment services, and expand your customer's options.
You gain total control in the authentication process with the Cardinal Consumer Authentication feature. This feature paves the way for increased sales and better customer assistance for enhanced buying experience. For sellers, transactions can be adjusted with the rules engine based on your factors such as transaction amount, IP address or the devices used, and many more. As a user, you are also updated about the latest in developments in payment operations to ensure the future of your business.
The Universal Wallet feature also allows users to integrate their different digital wallets and payment gateway accounts such as PayPal, Amazon Payments, Visa CheckOut, and MasterCard MasterPass. For consumers, this enables smooth and secure transactions for their payments in a few simple and easy steps. This security is further enhanced with tokenization to simplify the complex process of PCI scope.
Further updates are given to users of CardinalCommerce that is related to innovative technologies in security for a more complex authentication landscape delivered in an easy process for online fraud prevention. Customization can also be done in delivering messages for mobile marketing on new products, offers, and other business promotions.