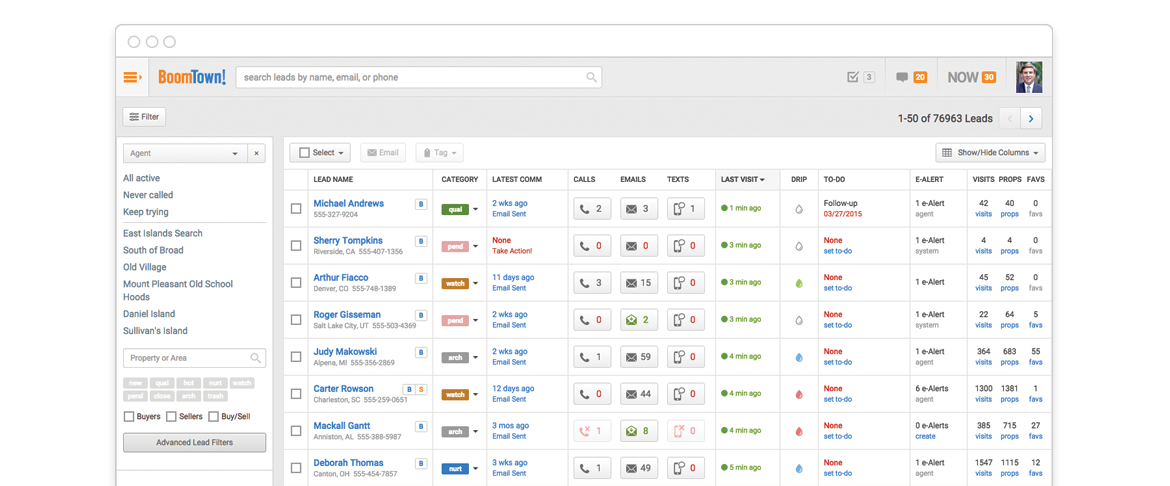 The main benefits of Boom Town are enabling real estate professionals to effectively manage contacts, generate leads, and improve their business. Specifically, here are the advantages users can expect from the system:
Expert Lead Generation
Boom Town has certified experts that help handle lead generation. Lead activities are tracked to offer insights and predictions to teams. Texts, conversations, emails, and interactions are tracked to ensure nothing is lost during translation.
Automated Tools
The software offers automated follow-up tools that ensure connections lead to closings. Automated emails and Action Plans templates are available to help users remain connected and be updated of every stage.
Responsive Mobile App
Boom Town is available as a mobile app. Users can take actions immediately with one swipe from their devices. They can call new leads on-the-go, respond to emails and text messages, and finish their tasks with a simple swipe.
Dependable Support
Boom Town has a dedicated support team to help users get started. They offer training to teams and run a successful management program to ensure businesses persistently thrive. Users can reach out to support for assistance 7-days each week.
Follow-Up Planning
The tool is armed with follow-up plans to ensure companies can optimize their database and to take full advantage of opportunities regardless if they're set to buy now or later down the road.
Search Algorithms
With proven search algorithms, Boom Town targets the right audience at the right time to ensure optimal conversion. It then effectively organizes opportunities so they can be addressed later.
Functional Funnels
Agents do their prospecting on autopilot, generate and test emails, and convert interactions into long-term relationships.
Reliable Metrics
Boom Town can help businesses know what works and when change is needed by giving them a holistic view of performance metrics and accountability for their offices and teams.