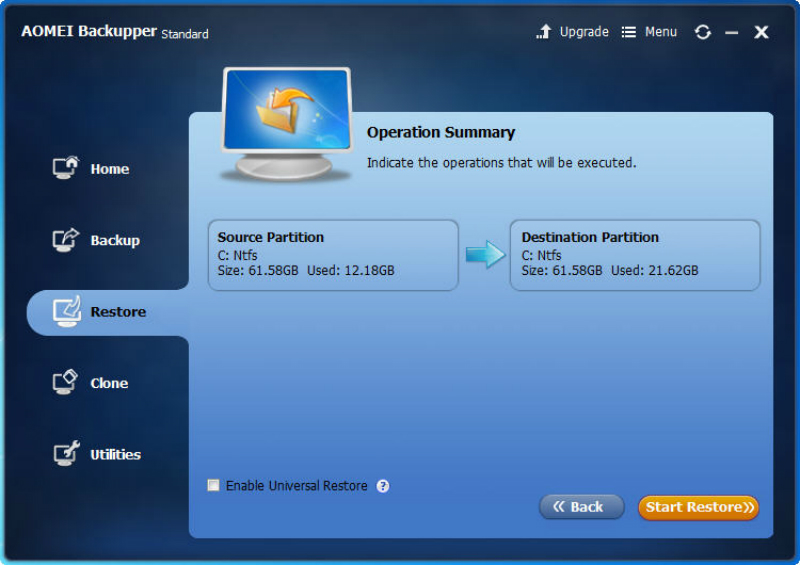 The main benefits of AOMEI Backupper are its robust free edition, intuitive and simple interface, plenty of free utilities, and offers a purchase guarantee. Here are more details of its benefits:
Benefit from the Robust Free Edition
The Standard free edition is a powerful, easy-to-use, and versatile backup freeware. It is an all-in-one disaster recovery and data protection solution for Windows laptops and desktops that can perform differential and incremental backups, real-time sync of folders and files from source to target path, clone disk drives for migration and upgrade, create bootable disk for unbootable or bare metal computers, and schedule backups, among other tasks.
Enjoy the Intuitive and Simple Interface
AOMEI Backupper has a simple and clear interface that makes it simple even for lay users to perform backups. There are five main buttons – Home, Utilities, Clone, Restore, and Backup – and each one needs just four steps to finish the process.
Use Plenty of Free Utilities
AOMEI Backupper reviews indicate that the software offers a range of free tools such as PXE Boot, Image Deploy, and OneKey Recovery, as well as vrBackupper to backup, move, and restore Oculus Games.
Gain from Lifetime Upgrades
All premium editions offer free lifetime upgrades. You can easily do an upgrade in three simple steps to get the latest features, fixes, and updates when a new version is released.
Get Purchase Guarantee
You can securely order the product you need on the AOMEI Backupper website as all transactions are protected by 256-bit SSL and therefore totally safe. After you complete the purchase, a license code will be sent to your email address. If the product does not meet your expectations, you can utilize the company's 90-day money back guarantee to request a refund.