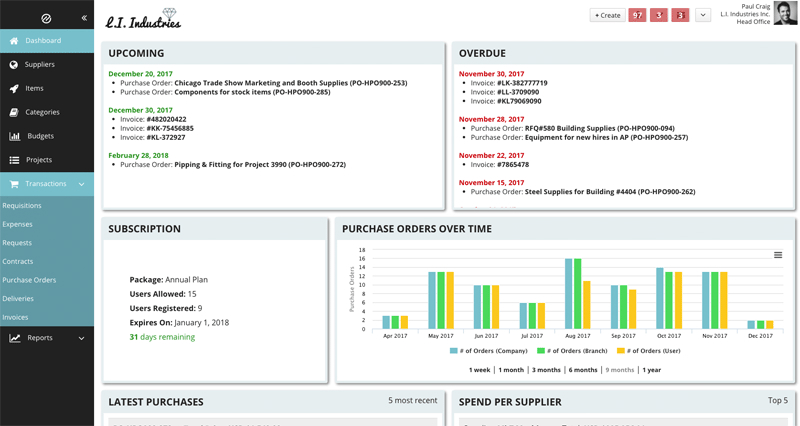 Fully Control Your Procurement Processes
Tradogram lets you easily set your procurement planning objectives, achieve your goals within budget, and fully control your procurement processes. The program assists you to get more information about your suppliers and spend analytics. In addition, you can collect and analyze supplier information and performance to decide which providers you wish to buy from and which ones to avoid.
Maximize Efficiency, Minimize Costs
With this solution, you can significantly improve your efficiency, while minimizing expenses. It allows you to exercise absolute control over your procurement workflows. In addition, the tool helps you bridge your product specs, contracts, and other info so that you can generate precise requisitions and purchase orders. Another advantage is that you can bring in other products from various requisitions and order them together to improve your economies of scale. Everything is easily tracked and all activity is logged automatically.
Find the Best Supplier
Tradogram reviews indicate that the software allows you to control the total cost of ownership. You can improve your procurement processes by evaluating supplier and product info to decide the best value. On top of that, you can identify the best supplier by comparing factors such as payment terms, shipping costs, delivery times, quantities, specs, and price. Tradogram lets you send out simple RFQ/RFP forms that allow suppliers to complete and send you their offers online through email. Your negotiation process is optimized to help you always close the best deals.
Effective Contract Management
Contract management plays a key role in the acquisition process. Tradogram empowers you to efficiently manage your supplier contracts right from the initial request down to negotiation and renewal. Plus, you can evaluate your contracts to decide which ones provide the greatest value. Store your supplier contracts in an easy to access repository and ensure that your users always have access to the best negotiates terms and pricing.