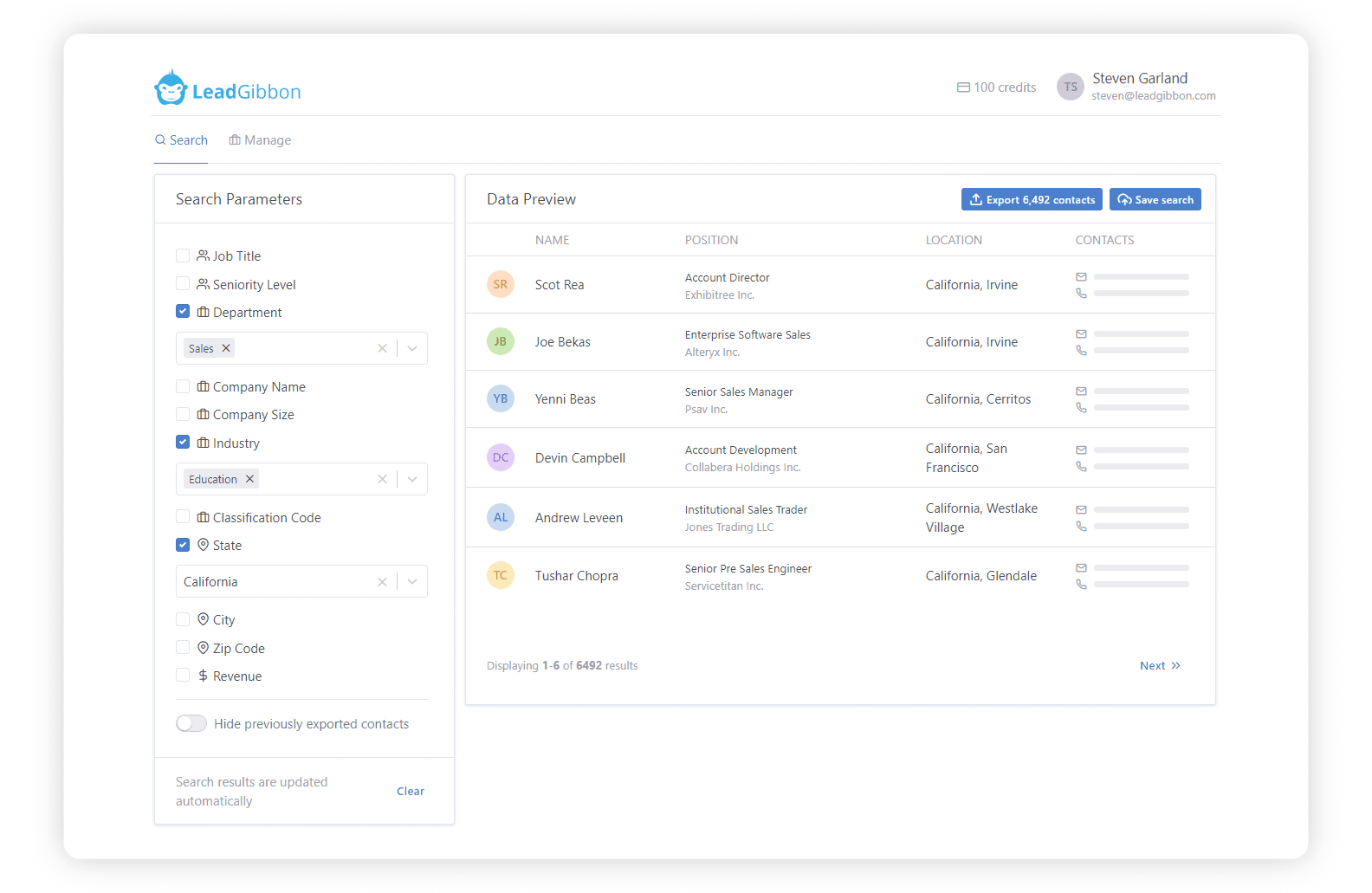 The main benefits of LeadGibbon are its extensive contact database, search parameters, quick and simple interface.  Here are more of its benefits:
Intuitive Interface
LeadGibbon's intuitive platform ensures that you can easily identify and target the leads that your business needs, and gives you access to verified and updated contact information about your leads.
Contact Database
LeadGibbon gives you access to over 20 million contact records and over 1000+ companies. All these profiles are updated in real-time and provide verified firmographic data to give users access to fresh contact information.
Search Parameters
You can drill down and find the contacts that your company needs as LeadGibbon allows for unlimited search filter combinations. Users can select unique leads by position, industry or company type. LeadGibbon also gives you a preview of other relevant information such as company revenue and allows you to search by SIC/NAICS codes.
Search by Target Location
LeadGibbon helps users find targeted leads in various cities, states or U.S. territories throughout the United States. It allows for searches by city, town or zip code.
Unlimited Saved Searches
It can be challenging to manage various contact databases built over various timeframes. There are times when you need to get back to a search you made months ago. LeadGibbon allows users to save as many searches as they wish for free. Users can assign unique names to these searches, which they can share with their team.
Quick and Simple Interface 
LeadGibbon's interface is simple and intuitive, making lead searches straightforward and fast. Users are not bogged down by long data loading times as data processing is done in the backend. Once you've found your target business contacts, you can click 'Export' to generate a Google spreadsheet with the lead data in just a few minutes. Data is exported as a CSV file, with over 20 columns of updated contact data.