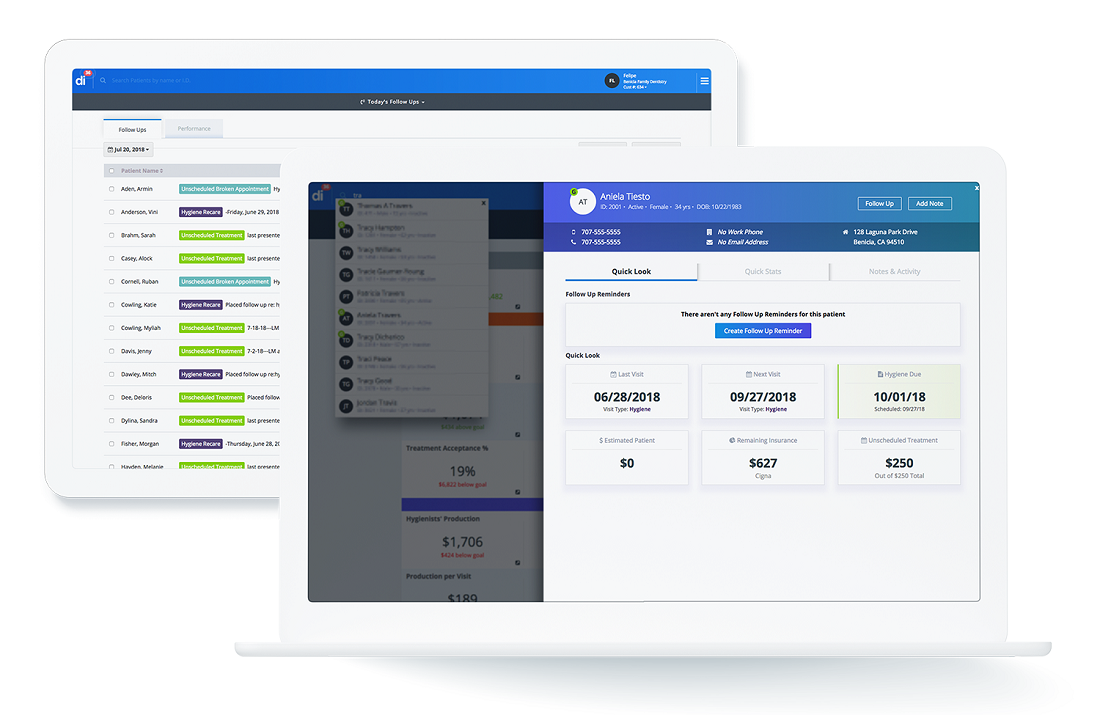 The main benefits of Dental Intelligence are its capacity for extracting data that are reliable and accurate, its ability to present data in ways that are easy to digest, customizable dashboards, and interaction with data analysts to gain better insights. Here are more details:
Extract reliable practice data
The system aims to help dentists understand their practice data for improvement purposes, which is why it only makes sense that the data they use is raw and actual. The platform capitalizes in its capability to integrate with the most widely known dental practice management solutions such as OpenDental, Eaglesoft, and Dentrist for extracting data straight from their very own system for analysis.
Presentation of data in a comprehensible way
After extracting data from the financial software and practice management systems, it is time to present the data. Dental Intelligence does it in an easy to digest way by aggregating the data into comprehensible reports and dashboards. This is a good method for allowing dentists to visualize their performance.
Customize dashboards
Each person in a team has their own goal which is why their corresponding dashboards can be customized as they see fit. This means that dashboards can display only the metrics that are useful for specific employees. To illustrate, a dentist may want a dashboard that displays the number of prescribed treatment plans while another staff wants a dashboard that aims to reduce the number of no-shows patients. Each has their own goals and both can utilize a different dashboard suited to their needs.
Get assistance from data analysts
Dental Intelligence aids dentists in maximizing the insights they could gain from their extracted data with the help of a team of expert data analysts. They can interpret the given data and discover the best actionable insights from it. The experts will evaluate their performance and compare it to other metrics based on practices. This way, the resulting numbers in the analysis can be fully understood and will further aid them in improving themselves.