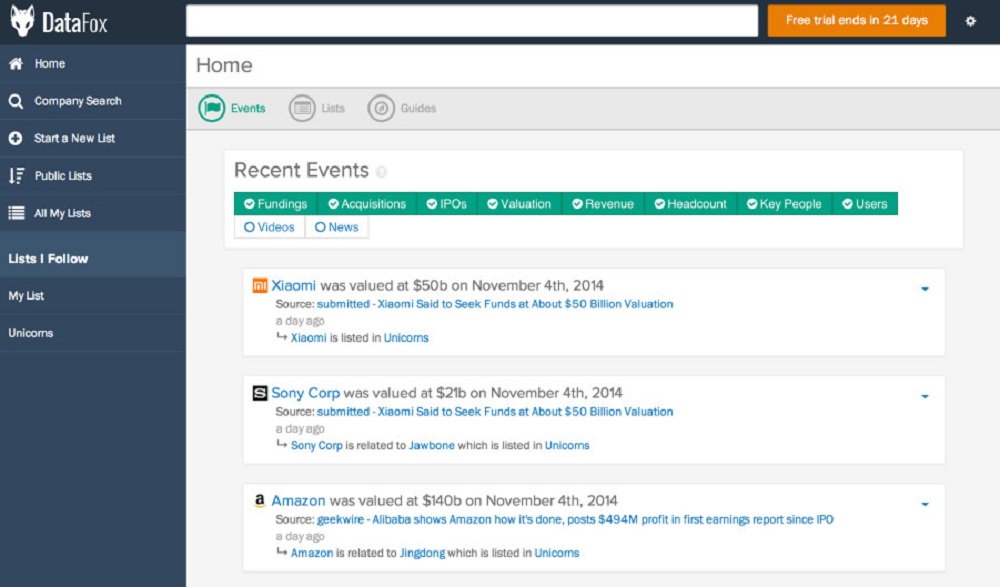 The main benefits of DataFox are its complete data report, great data management, and consistent accuracy. Here are more of its details:
Complete Data Report
DataFox brings change to the way companies handle and discover critical account data. They are given complete health reports on the data, together with its comparison against the software's proprietary and clean data set. DataFox is a one-stop solution capable of delivering all information needed by companies for successful and effective prospecting. It brings all required information to users, from contact information and company data up to signals.
Bad Data Management
No one is completely safe from bad data. And so, DataFox is being manned by expert data pros who provide users with personalized solutions for effectively handling bad data. They also offer over 40 validated company data points regarding accounts, leads, and contacts on their database. This is a great help in enriching users' accounts and leads.
Updated and Accurate Data Result
DataFox understands the importance of updated and accurate data when it comes to data-related processes, such as campaigning and decision-making. Through the system, users can refresh their data no matter how many times necessary to ensure that they're only working with the most precise and recent information.
Ideal Signal Recognition and Usage
DataFox is an expert when it comes to signals. It is particularly designed to immediately recognize and provide signals on accounts that have the best chance to drive a business towards success.