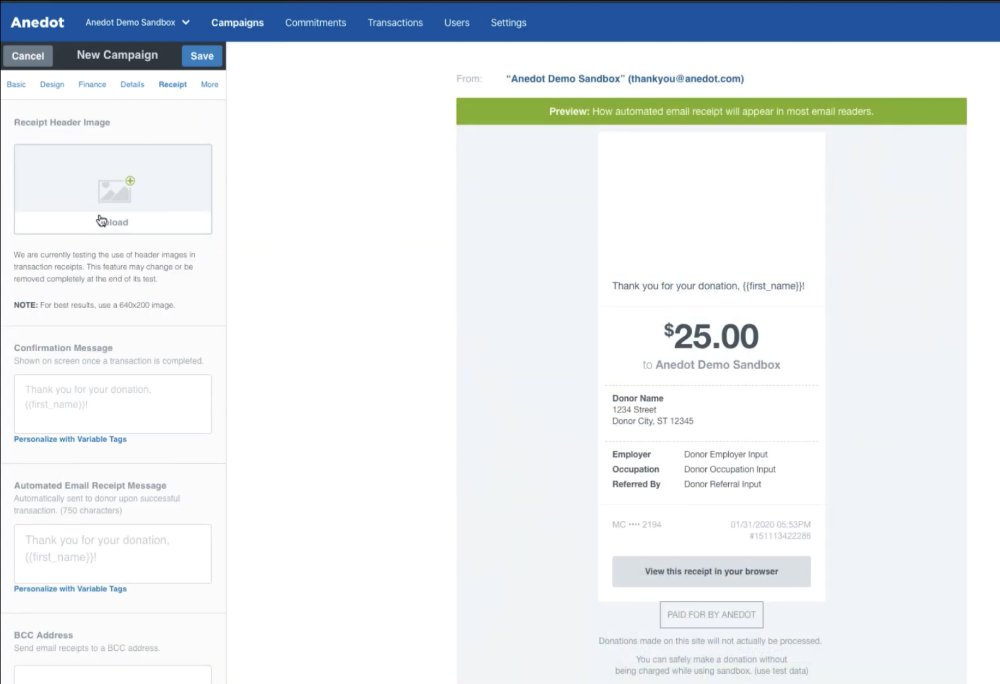 The main benefits of Anedot are fast and easy donations, customizable pages and forms, and robust third-party integrations. Here are more details on Anedot's benefits:
Fast and Easy Donations
Anedot makes it easy to accept online donations for your campaigns. Supporters can send donations through your website, text-to-give, or donation kiosks. The donations are automatically deposited in your organization's bank account and Anedot sends automated thank-you emails to your supporters. The app also has a donor recovery feature that follows up people who weren't able to finish donating.
Customizable Pages and Forms
Anedot allows you to customize your donation pages. You can name your campaign, add the campaign's mission, design donation widgets, and insert different amounts that donors can simply click to donate. You can establish fundraising goals and contribution limits. You can also customize the donation forms and embed them into your website. Additionally, the app has instant forms for people who give recurring donations so that they don't fill up the same form again and again.
Third-Party Integrations
Anedot integrates with a diverse array of third-party apps. It integrates with CRM apps such as ActiveCampaign, digital marketing apps such as MAPP Empower, email marketing apps such as MailChimp, tax preparation apps such as NETFILE, and online payment apps such as PayPal. For instance, you may want to integrate into contact management software.