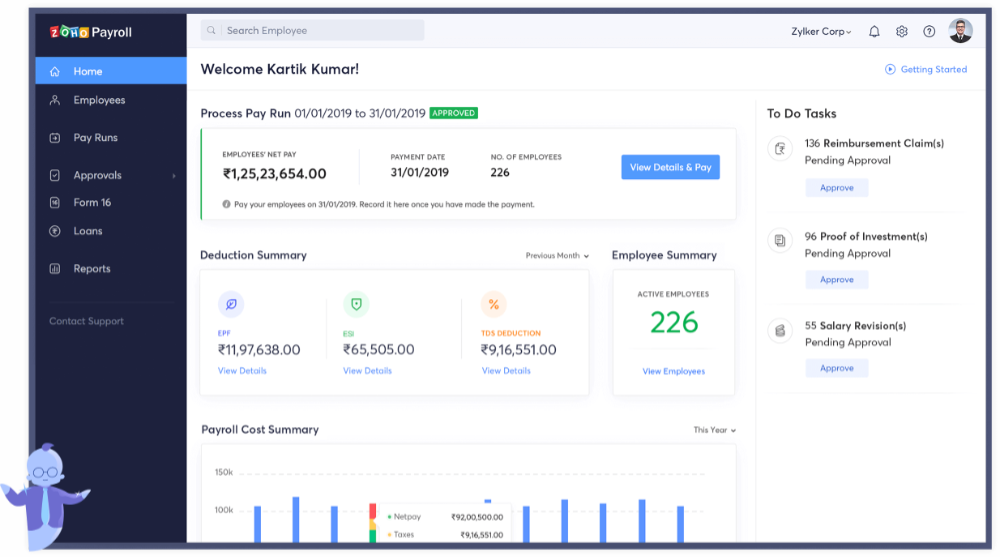 The main benefits of Zoho Payroll are automated payroll calculation, statutory compliance, HR and accounting integrations, and an employee self-service portal. Here are more details on Zoho Payroll's benefits:
Automated Payroll Calculation
Zoho Payroll can automatically generate employee payslips online and send them to your employees. It also calculates bonuses, allowances, taxes, and deductions. You can either pay them online and send the money directly to the employee's bank account or offline through checks. The app ensures that you pay your employees on time. You can also use the app to track any loans that your employees may have.
Statutory Compliance
Zoho Payroll helps you comply with statutory compliance laws to help your business avoid possible legal problems that cost a lot of money and take up a lot of time. This also protects you from a backlash to your reputation. This feature also helps you easily file tax reports. Following statutory compliance laws also ensures that you are treating your employees fairly and humanely.
Employee Self-Service Portal
Zoho Payroll also has an employee self-service portal where employees can send payment requests, view their salary bill and structure, and ask about other related payroll issues all in one place. These are essential features for payroll software to have.
HR and Accounting Integrations
Zoho makes it easy to integrate its apps to achieve a seamless workflow. You can integrate Zoho Payroll with Zoho People to manage your human resources and with Zoho Books to manage all your accounting tasks.