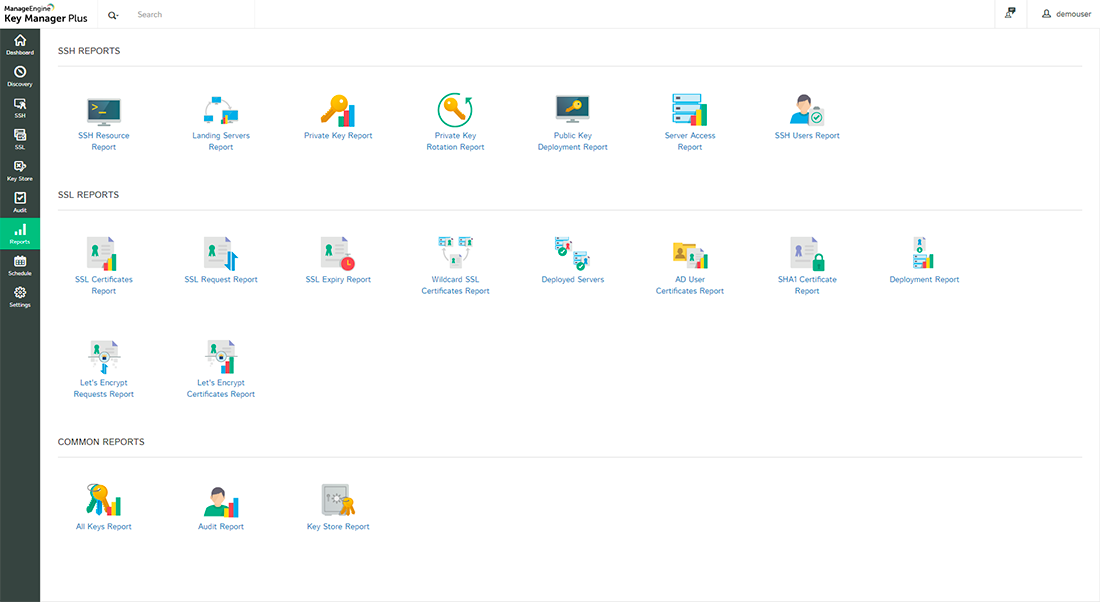 The main benefits of ManageEngine Key Manager Plus are its capabilities that make the process of SSH Keys management easier and the ability to secure SSL environment. Here are more details:
SSH Keys Management Made Simpler
Security administrators typically experience serious challenges particularly when it comes to securing data in transit. SSH keys are crucial in helping enterprises and organizations access remote administrative functionalities as well as data transfer securely. That being said, digital keys do create a number of challenges. Normally, administrators just leave SSH keys unmonitored and unmanaged which opens up their enterprises or organizations with numerous threats and cyber attacks. To deal with this vulnerability, most security professionals gather each key that is in use, search and then deny privilege access. They will also implement periodic rotation. These processes typically consume a significant amount of effort and time. ManageEngine Key Manager Plus is designed to simplify the aforementioned processes.
Secure SSL Environment
Many organizations or enterprises are often left to utilizing many SSL certificates given by several different vendors with different various validity periods. There may be instances when an organization use a rogue, invalid or expired, unmanaged SSL certificates. These scenarios could lead to error messages shown on the screen or downtime of service, which affects the customer's trust in data security. Worse, these scenarios can open your network to cyber-attacks. The Key Manager Plus from ManageEngine is designed to help you address the aforementioned instances while acting as an all-around software for handling or managing digital identities.