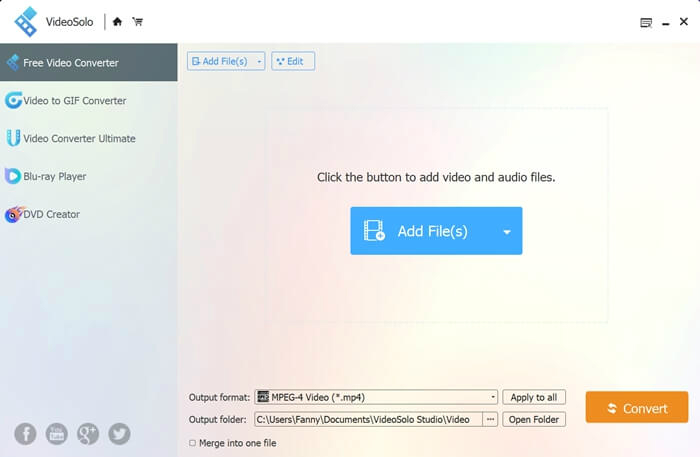 Supports Multiple Formats
There are multiple video formats compatible with multiple devices. Therefore, it is important to get the format and resolution right for a specific device while creating or watching video content. But this can cost a lot as you need to invest in pricey software for the purpose. The solution is to download VideoSolo Free Video Converter which is available free and is a reliable converter for Windows and Mac.
Bunch of Useful Features
For a free software, this application offers plenty of value. It supports greater than 300 formats in high definition and conversion speed is fast. Lay users can utilize presets for widely used mobile formats. In addition, you can benefit from time-saving features such as the capability to create custom intros and outros, video merging, customizable EQ and quality settings, and batch conversion.
Fast Conversion Speed
Free Video Converter reviews indicate that this software claims much faster video conversion speeds as it utilizes NVIDIA and Intel hardware acceleration. You can view the converted videos on almost all smartphones including all versions of iPhone. In addition, you can convert for gaming consoles such as Xbox and PlayStation 4, and different makes of Smart TV. The vendor keeps adding new devices regularly.
Fine-Tune Videos for Specific Devices
When you download a video from your Mac to a iPhone 7, you'll likely find that the file is poorly converted because of the smartphone's Retina display. The solution is to select the appropriate format for which options are provided in the Profile bar. Another issue is large video files that can jam your mobile phone. To resolve this problem, go to the Output Video Parameters segment and change the video bitrate, aspect ratio, frame rate, resolution, and encoding. Now, the altered video will sync easily with your iPhone.
Create High-Quality GIF Images
Free Video Converter provides a Blu-ray player as well as a video-to-GIF converter which is a great help as it can be difficult to create high-quality GIF images. Plus, you don't have to worry about annoying watermarks that come with a lot of online GIF converters.