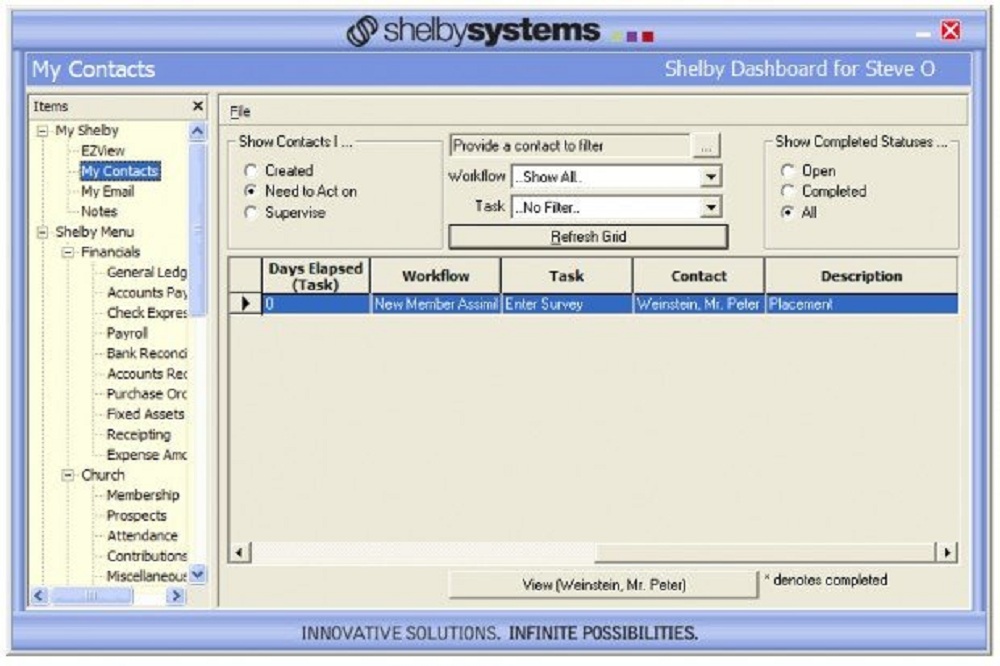 The main benefits of Shelby Systems are its comprehensive Total Ministry package, cloud-based Church Management Software, accounting and finance features, capabilities to gather and facilitate donations easier in the digital realm, state-of-the-art website solutions, and capabilities to send text messages en masse. Here are more details:
Church Management Software
Church Management Software comes with a wide array of tools such as check-in and calendar systems and more that help users manage the database of their entire congregation. The system also comes with features that can help improve their organization's workflow. Therefore, the church's personnel can engage better with their attendees. The available tools can also help them become more organized so they can concentrate on crucial ministry tasks.
Accounting and Finance Features
Shelby Systems offers accounting and finance tools that can help users manage their money better. It covers fiscal responsibility, accounts receivables, accounts payables, payroll, asset management, and more. The systems are also GAAP and FASB compliant so users can ensure a reliable and accurate record.
Online Giving Capabilities
With the online giving capabilities of Shelby Systems, churches can easily and conveniently gather and manage their donations. Moreover, a donation option can be included in the church's website if the organization chooses to. The software also comes with a mobile application version so users can easily facilitate contributions even while on the go.
State-of-the-art Website Solutions
Shelby Systems offers state-of-the-art website solutions that can help churches amplify the look of their website and make it more inviting and professional-looking.
Mass Texting Capabilities
With Shelby Systems, communication becomes more effective. The software features mass texting capabilities that allow users to communicate with attendees or peers in a faster and more modern way. Moreover, administrators can facilitate text blasts through the system's mobile application, making communication more convenient. Users can send updates virtually anytime they need to even when they are on the go.