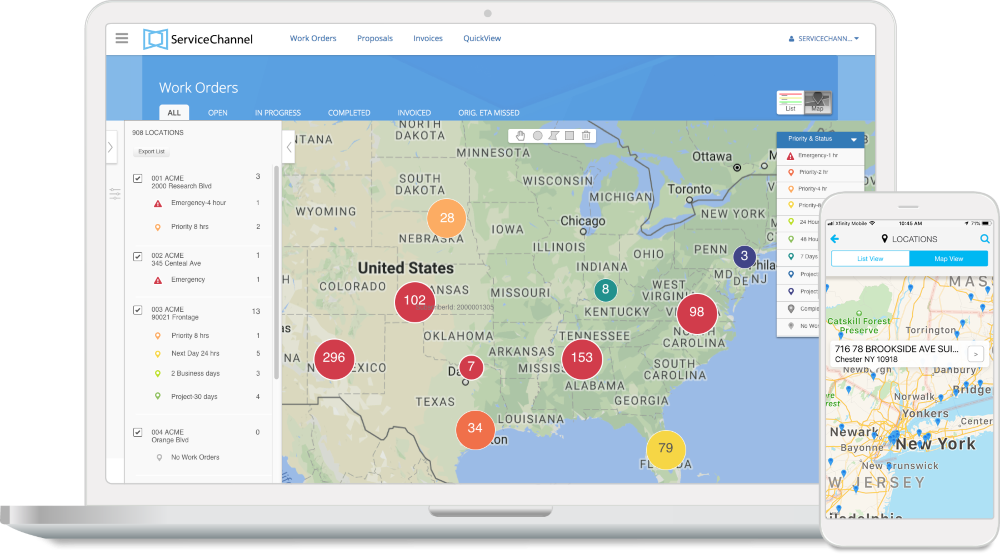 The main benefits of ServiceChannel are its convenience, business intelligence dashboard, and its Asset Management system. Here are the details:
With just an internet connection, users can make use of the platform's Service Automation Suite to initiate requests wherever they may be. The Service Automation Suite is SSAE 16 compliant, and can securely show users information on status and progress as soon as they are authenticated. This security doesn't sacrifice mobility and convenience, as users can view service and status requests through their mobile devices.
With the pre-built reports provided by the business intelligence dashboard, users can leverage data insights that are actionable, as well as encourage better efficiency since they now have access to predictive, current, and historical views of operation. NTE (not to extend) levels can be used to verify, validate, and authorize scheduled and preventive maintenance tasks. Invoice approval time is reduced, as well as invoice processing costs. The Commercial Contractor Private Network provided by the software also simplifies and streamlines the current contractor data, which can include payment, insurance, licenses, and W-9s.
Data can be viewed in real-time across all contractors, trades, and locations, and can be managed with event-driven exceptions and alerts. Proposal management is also made quick and easy as contractors can be sent RFPs online. Users can also get their proposals online. Whatever the location, users get a deeper look into their physical assets thanks to the Asset Management system. Contractors can be sourced and qualified from the Commercial Contractor Directory, while at the same time making sure that company policies are complied with.