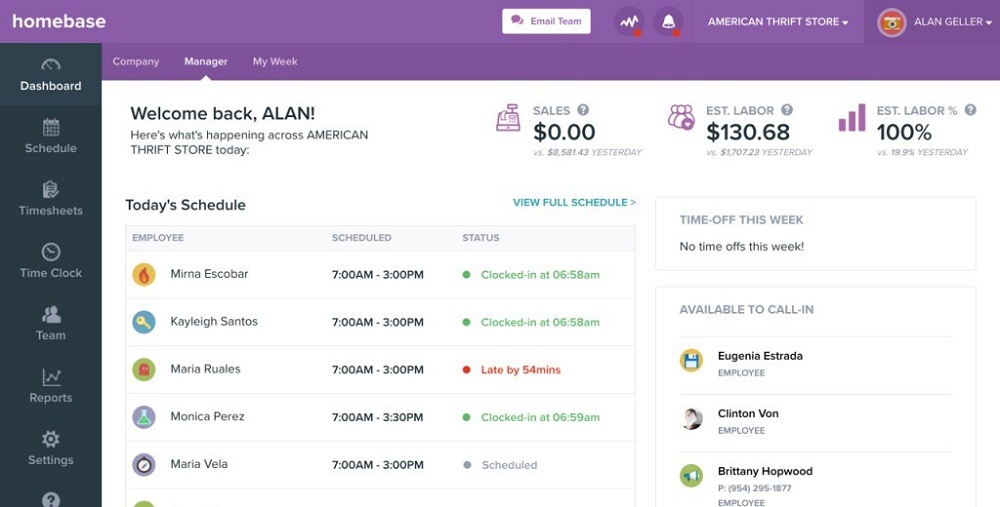 The main benefits of Homebase are its ability to simplify the process of schedule creation and time tracking for employees, its cloud-based approach, and its capability to generate reports that are relevant for some business processes. Here are more details:
Easily create schedules and track time
The system aims to streamline the scheduling and time tracking processes to aid business owners in making an optimal schedule that allows for most revenue while still effectively reducing absences. It also aids in preventing loss of income due to payroll miscalculation. It combines payroll, time tracking, and scheduling functionalities in one platform, which means that users do not need to exit the application to open another software or to switch between windows.
Cloud-based
With Homebase, employee scheduling becomes a paperless process because of its cloud-hosted functionalities. The system can be accessed by managers and employees through their tablets and smartphones. The former is able to create schedules and the latter can get notified, view their shift, or log in and log out. Workers are also allowed to submit requests for changes in work schedules or for trading shifts to their managers in which the decision will be instantly reflected on both parties' screen.
Homebase also drastically removes or reduces errors related to scheduling such as lost worked hours, unaccounted hours, and overlapping shifts. That is because managers are able to quickly make and manage schedules through web browsers and then inform pertinent employees about them via SMS or email. This means that everyone is in kept in a loop.
Generate relevant reports
Homebase features various reporting tools that users can utilize in gathering information, comparing to identify trends and viewing different schedules, actual hours worked and underages and overages. This ensures that workers are accurately paid base on the number of actual hours of service they rendered.