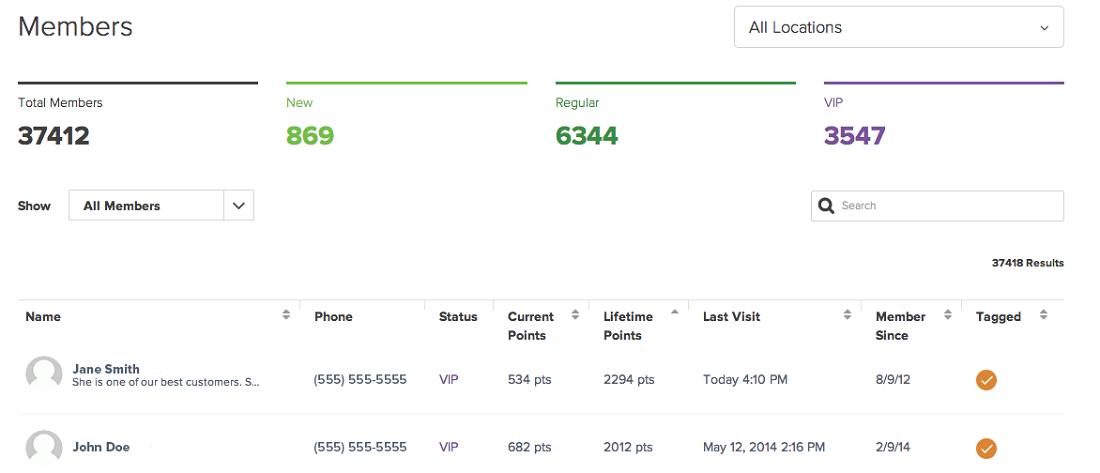 The main benefits of FiveStars are its capability to solve or ease customer acquisition and retention pain points, its support for the creation of effective and customized reward programs, and user-friendly interface. Here are more details:
Solves Customer Acquisition and Retention Pain Points
To drive business growth and success, companies need to constantly grow and expand their customer base. The process of acquiring and retaining customers, however, can be challenging. Typically, about 50-60 percent of first-time customers are not likely to make a repeat purchase or visit your store to buy again. FiveStars helps you come up with reward programs that will help solve this issue.
Customized Reward Programs
FiveStars offers businesses with recent and accurate customer information valuable in creating reward programs that work. Gathering accurate customer data is made faster with the aid of the software's easy registration process and intuitive technology. You can learn about the spending patterns and other customer's buying behavior and use it in crafting the rewards programs. So whether you are looking to create a complicated rewards scheme or a simple loyalty program, this software offers you with capabilities that can help you in the process and ensure its effectiveness so no effort or time is wasted due to ineffective programs.
Retain Existing Customers and Acquire New Ones
With reward programs tailored based on customer's needs and preferences, you can attract as well as retain up to 50 percent of customers after their first purchase. As you grow your customer base, so does your business.
Boosts Your Marketing Efforts
Effective rewards programs can also boost your marketing efforts. Happy and satisfied customers are likely to share their experiences with their loved ones and friends. Word-of-mouth is still one of the most effective marketing strategies.
User-friendly Interface
FiveStars is user-friendly. No need for extensive training to get your staff acquainted with the software. Moreover, the software allows your customers to sign up for programs with ease. The programs you created are shown via a sleek tablet, ensuring that it gets your target audience's attention.