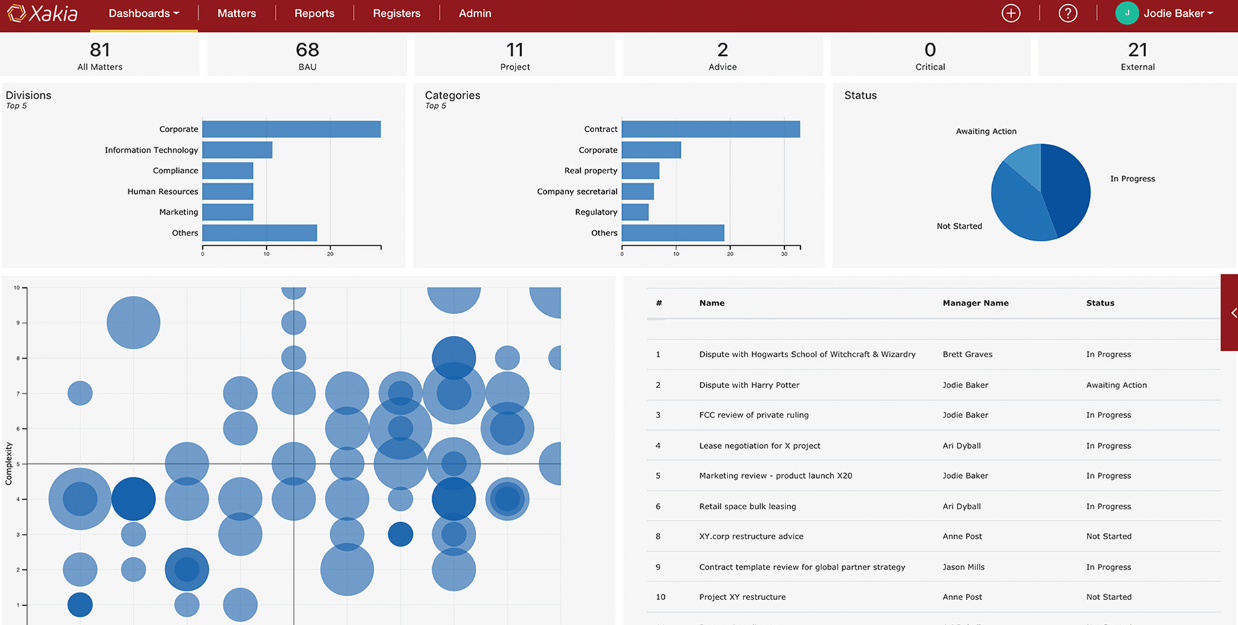 The main benefits of Xakia are its visual reports and dashboards, its intuitive matter management tool, its budgeting feature, and its legal intake capability. Read on to learn more about these functionalities.
Visualized Data
Data visualization assists your team in understanding your current work status with a single glance. You can do this by looking at your data from beautiful visual dashboards and reports provided by Xakia. Using these tools, you can uncover critical solutions to your issues and even discover things that can help you optimize your processes further.
Intuitive Matter Management
Xakia has an intuitive tool that enables you to pick up crucial information about your ongoing legal cases. With it, you can find out who you are dealing with, what the matter is all about, when the deadline is, and why the matter requires the legal department's consideration. As such, you can better handle the case since you are well-equipped with the necessary information.
Budget Visibility
Having transparency regarding financial matters assists your legal department in better handling bills. That is why Xakia helps you analyze your expenses by unit, category, or by another metric. The solution also assists you with your billing needs by letting your partners to send invoices via Xakia. This enables you to see how it affects your overall financial performance on your dashboard immediately.
Additionally, Xakia can connect with an external billing tool. This way, you can still draw information from the software to have a comprehensive view of your finances.
Efficient Legal Intake
Xakia has an efficient legal intake tool that lets you gather information directly from your clients. You can configure this on your intranet for security while enjoying a smooth exchange of data. You can assign members of your team to receive email notifications to ensure that you have everything you need to handle matters.