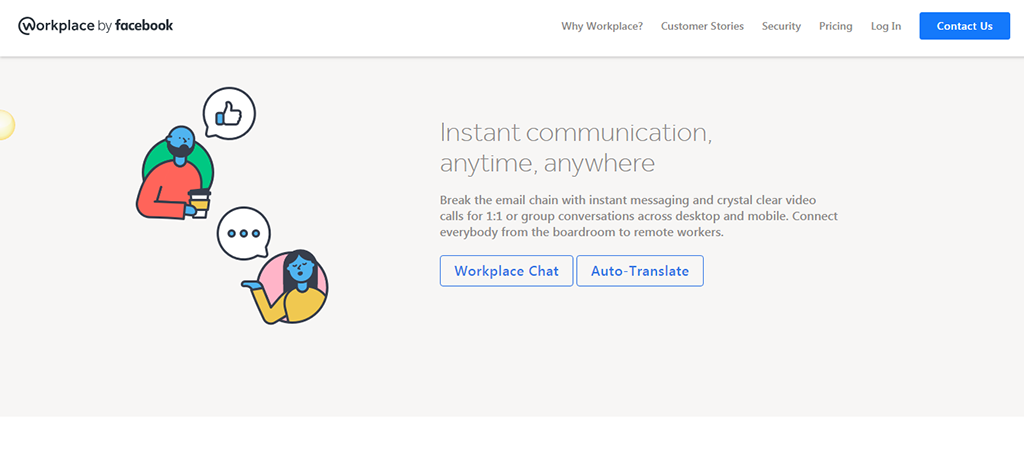 The main benefits of Workplace by Facebook are its efficient collaboration, accelerates two-way communication, engages employees, and extends tool functionality. Here are more details:
Built for businesses and employees, Workplace by Facebook offers an array of benefits to leverage communication, project collaboration, and information sharing, among others. Here are some examples:
Efficient collaboration
According to our Workplace review, the tool uses machine learning to improve its functionality according to your workflows. Features such as org charts and groups give you a space to share information, discuss projects and collaborate on documents securely using desktops and iOS and Android mobile devices.
Accelerate two-way communication
Boardroom and remote workers stay connected through group and 1:1 conversation with Live Video and instant messaging. News Feeds streamline organizational silos and post comments, likes and reactions show you a quick real-time feedback. This empowers communication for your team to stay aligned with projects and goals.
Engage employees
Workplace by Facebook helps you keep your employees engaged. Optimize training with articles, webinars, and Live Videos, use Multi-Company Groups to connect old and new hires, and run polls in Groups to get your employees' opinions. Workplace Chat bots also guide employees to simplify onboarding, benefits and payroll processes.
Extend tool functionality
The tool easily connects with your existing systems according to various Workplace by Facebook reviews. Deploy integrations with single sign-on and one-click provisioning and build your own custom integrations. By integrating the tools you're already using, you can reduce the number of tools you use and maximize each of their functionality.