Where to list B2B & SaaS software products? Here's top 10 review directories
The attitude and buying choices of clients have always been formed by reviews they could read online. The power of such reviews is significant in all types of market sectors and industries, from booking travel destinations to purchasing retail products. Even the technology sector—particularly B2B and SaaS solutions—is fast changing along with the rising impact and prominence of online software reviews.
In fact, a study made by software Software Advice, showed that online reviews actually precede about 75% of all B2B software purchases. What does this mean? It means that before purchasing anything, three out of four B2B buyers research online first and read the reviews about your product before they even contact you. And the most trusted sources of such reviews are popular B2B review platforms, like FinancesOnline.com currently one of the top review sites for B2B products online.
Another interesting finding from the study made by Software Advice is how larger-scale businesses are using reviews quite differently compared to those with small businesses. According to the said report, 87% of large companies are more likely to check out reviews before buying software compared with 70% of B2B purchasers from small businesses.
Here's our list of top 10 most popular and reliable business review directories:
1. FinancesOnline: leading SaaS, B2B and finance solutions review platform
2. G2crowd: software reviews based on a unique grid scoring system
3. SaaSGenius: fast and efficient discovery of new SaaS tools
4. Capterra: software reviews in more than 300 categories
5. SoftwareAdvice: simple and intuitive software selection
6. GetApp: a reliable B2B software review directory
7. AppExchange: popular marketplace of business apps
8. IT Central Station: a crowdsourced review site
9. DiscoverCloud: a SaaS-specific directory with market analysis tool
10. Oracle Marketing Cloud: large marketing technology ecosystem
Below you can read more about why these sites are so importnat and you'll find a more detailed look at each of the sites.
Why B2B & SaaS software review sites are important
Other studies indeed reflect the strong influence of these B2B SaaS software review sites on sales. A recent ZenDesk survey, for instance, shows that:
90% of all the B2C and B2B buyers from mid-sized organizations who had seen reviews online said that the positive reviews actually influenced their purchasing decisions.
A State of Demand Generation report by Pardot (Salesforce) for 2013 showed that B2B purchasers begin their product discovery using a Google search, where these review sites rank very highly. In addition, the Local Consumer Review Survey conducted by BrightLocal in 2014 showed that potential clients would read up to as high as ten user-generated online reviews before actually making the purchase. By the time the sales agent of your company knocks on a sales prospect's door, he or she already has an opinion about the software tool, and these are often based on review sites.
That is why it is no wonder that in the B2B and SaaS software buying process, reviews have become a norm. Most B2B review directories are very helpful sites that can help your target market with relevant information about your product. Buyers usually search for feedback online from peer organizations to check if the tool may be a right fit for their specific, often customized needs.
These third-party review sites operate in the same manner as user review websites that are available in the consumer market, for instance TripAdvisor and Yelp! The B2B or SaaS review platforms are always independent of the software organizations which adds them credibility.
Some would wrongly assume that these review sites will hard sell specific products, but actually it does not work in that manner. In fact, on the contrary, these review sites will remain objective to get more readers, who will rely on their reviews before selecting the right software.
If you own a B2B or SaaS company, you should consider these sites as your first base of operations, so people who learn about your tool have the right information about it.
Here are 3 methods to promote your B2B SaaS software solution in review sites:
Make sure your product information is quickly accessible to the reviewers of the site. This means making all the pertinent data clearly available on your website or even giving out the product specifications to the site's reviewers to ensure they are checking out the most important details of your software. You can even grant a site reviewer access to the software tool during the review period. These steps may not guarantee a positive review, but at least you can make sure your software solution is being reviewed along the right angles.
Ask your loyal customers to review your B2B SaaS product. Outline the main aspects they should review, including features, cost-benefit, ease-of-use, and integration. You can even provide them token incentives to write a review, but, more crucially, inform them that their user reviews will help your company to improve on problematic features or help other purchasers to choose if the software fits their needs or specifications. Do not ask them to merely post reviews on one of the top 3 SaaS directories for your B2B listing, try to make it more convenient and easier for them by drafting a sample review, sending an outline, and sending the review site's link.
Consider getting a paid listing in these review sites. They usually have a paid section where they can highlight sponsors. Think of it as an ad posted in the Yellow Pages. A paid listing can give you a good advantage over a rival that merely relies on user reviews.
Here are 10 most useful B2B review directories for listing your product:
1. FinancesOnline.com
Definitely the fastest growing B2B & SaaS review platform out there. FinancesOnline.com can help your potential clients find both your software and other similar services all in a single place. With FinancesOnline.com reviews prepared by a team of experts in the B2B industry, customers can get to know more about your product's features, terms, pricing, and additional information and they can easily compare it with the competition.
The site also offers a wide range of marketing services for your B2B and SaaS products that will help you improve trust in your product. They also provide very efficient lead generation campaigns and many vendors have reported very high conversion rates and ROI they got from cooperating with FinancesOnline. For most B2B directories you should expect an average conversion rate or about 7%, but for typical conversion starts at at least 10% for less-known brands and more than 20% for well-known vendors. You can easily increase your sales by directing traffic from your review page to your landing page with their lead generation campaigns. If you're not in their lisitng yet you can easily request a review here.
As far as trust building services are concerned, the site offers a Verified Quality Seal that shows your potential clients you're a reliable vendor that offers a quality product which will have a significant impact on your sales. The site also grants B2B industry awards and certificates and that will help you get even more trust and social proof with your clients. Their site can also boost your content marketing strategy with media releases and detailed product reviews about the unique features and achievements of your product (here's an example of extensive review prepared for Nimble).
2. G2 Crowd
G2 Crowd is another one of the popular software directories. It compares the best business software solutions with its reviews. Enterprise technology investors, buyers, and analysts can also use the site to compare and choose the best software solution based on peer reviews as well as synthesized social data.
3. SaaSGenius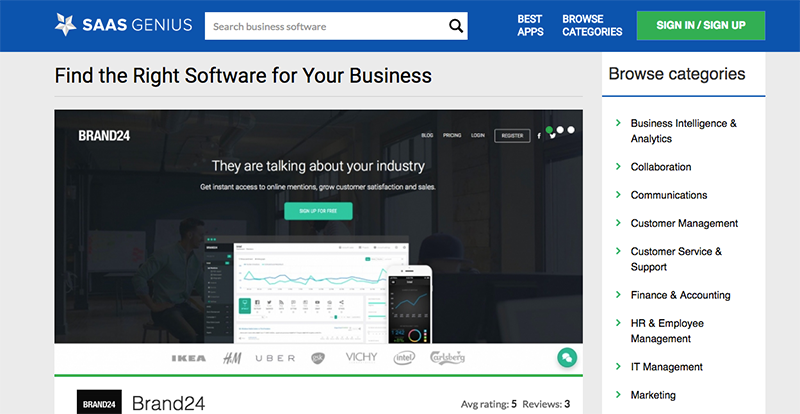 SaaSGenius is a fast-growing directory of SaaS software reviews. Their main goal is to make the process of finding the right business software as simple and straightforward as possible. SaaSGenius works with hundreds of companies and integrates with a wide range third-party service providers. Their platform allows you to compare and discover new business tools very fast and their reviews are based on a unique submission system combined with reliable internal moderation that guarantees unbiased information about each service. Current users of the platforms are very satisfied with their experience and SaaSGenius has also been praised by many popular news sites. Currently, vendors can add their products and services to SaaSGenius base for free, so it's an opportunity worth considering.
4. Capterra
Capterra can help people in finding the right B2B SaaS software for your business, comparing the tools that match your needs, and connecting customers with the right vendors. The site, which has over 300 software categories listed, provides buyer's guides, blog posts, as well as user reviews to help customers evaluate various options from a third-party source.
5. SoftwareAdvice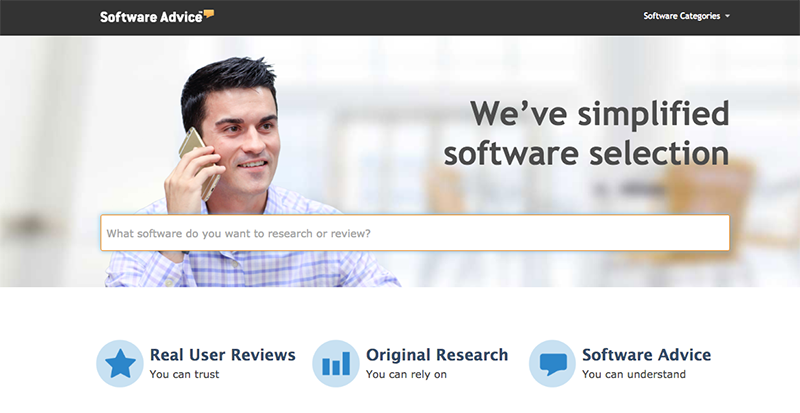 SoftwareAdvice is a SaaS software directory that provides access to a base of software reviews, research articles and product comparisons and their goal is to help businesses choose the optimal software for their needs. One of their unique features is the company's team of software analysts offering free telephone advice  to help buyers select the most reliable systems fitting their requirements. This process establishes a strong link between software buyers and sellers, which leads to profitable opportunities for software vendors. Software Advice is also known for providing leads to vendors who can follow up on these leads to close deals and get more customers.
6. GetApp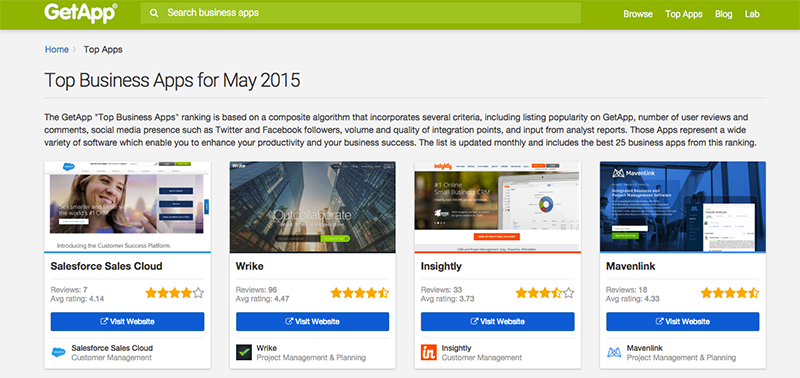 GetApp helps small and medium-sized businesses to search, look, compare, as well as review the best business software tools. It has over 3,000 apps in its review platform to help grow small and medium-sized businesses.
7. AppExchange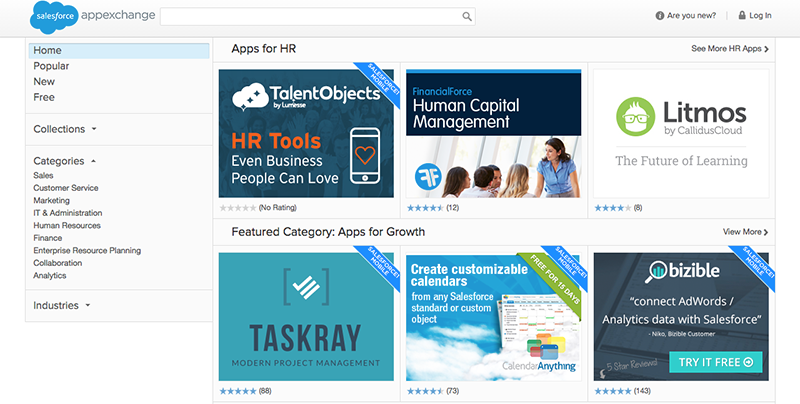 AppExchange is Salesforce.com's outstanding marketplace of business applications and consulting partners that offer solutions for various departments and industries. It is considered among the leading business app marketplaces out there, home to over 2,700 pre-integrated apps that can extend the power of your Salesforce account and build business faster.
8. IT Central Station
IT Central Station is mainly a crowdsourced review site that gives user-generated reviews of solutions for the enterprise tech community. It has community manager that verifies the identity of the reviewer, accepts the review through an interview, and posts it online with the approval of the reviewer. It is a dynamic, real-time platform that provides user information for enterprise technology decision makers.
9. DiscoverCloud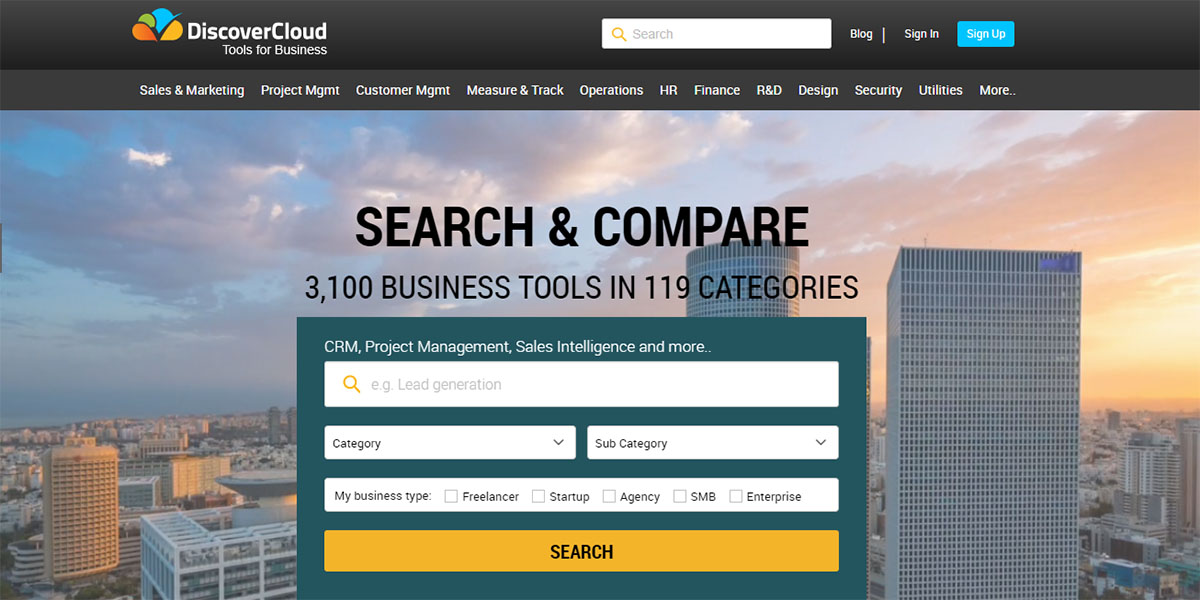 Business software review and comparison site DiscoverCloud gives businesses with a platform where they can search for Saas solutions together with product comparisons in categories such as sales intelligence, CRM, marketing automation, business intelligence, project management, invoicing, APM, SEO, billing, among many others. The service provides product listing for free and a search bar that can filter solutions according to prices and prospects' company types. It also has a market analysis graph where numerous vendors in a specific software category can be viewed. DiscoverCloud allows vendors to generate leads on a pay-per-click basis.
10. Oracle Marketing Cloud
Oracle Marketing Cloud helps marketers take advantage of the quickly-evolving digital marketing technology landscape. It has a large marketing technology ecosystem where customers can easily find and integrate top digital marketing capabilities and data. The site offers modern marketers good cross-channel, social marketing, and content software programs that also offer activation in the cloud and data management.
Conclusion
Since product discovery is primarily facilitated by popular B2B sites you should seriously consider your presence on such platforms. It's an easy and cost-effective way to boost both your sales and brand awareness. It's generally a good idea to add your product to all top B2B platforms listed above for maximum exposure, especially to leaders on the market such as FinancesOnline.
6 Responses to "Where to list B2B & SaaS software products? Here's top 10 review directories"