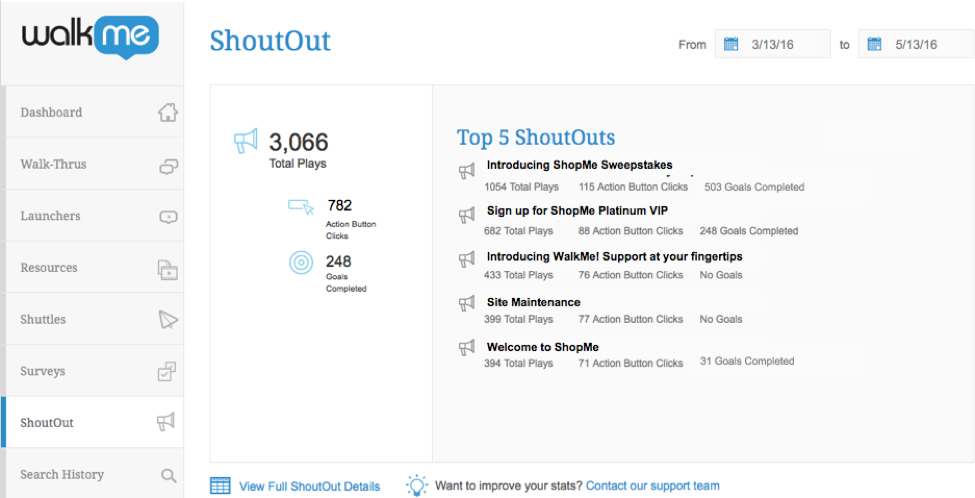 The main benefits of  WalkMe are its rich feature set and easy to use. Here are more of its benefits:
Walkthroughs to make complex sites easy to use
This feature offers step-by-step instructions to users. These are useful in promoting new features, training new users and walking them through queries.
Onboarding for a lasting first impression to visitors
Onboarding displays well-maintained task checklist so that users can know about the process they need to finish first. Checklists are useful to track user progress, introduce the latest features, and onboard first-time users
ShoutOuts to get attention to messages
ShoutOuts allows you to draw attention, whether you want to make an announcement, promote new features or services, inform about changes. You can also encourage them to start a walkthrough by using this feature.
Launchers to help users get unstuck
Launchers allow users to start an app or complete a survey. They are basically buttons that help avail important resources or websites.
WalkMe Player
The WalkMe Player allows you to have all WalkMe Apps in one place and non-intrusive tab on side of the screen.
WalkMe Editor
The WalkMe Editor helps make, edit and manage all WalkMe Apps without requiring technical knowledge.
WalkMe Analytics
WalkMe Analytics allows you to measure users experience of the WalkMe Apps in real-time to help you understand their needs better.