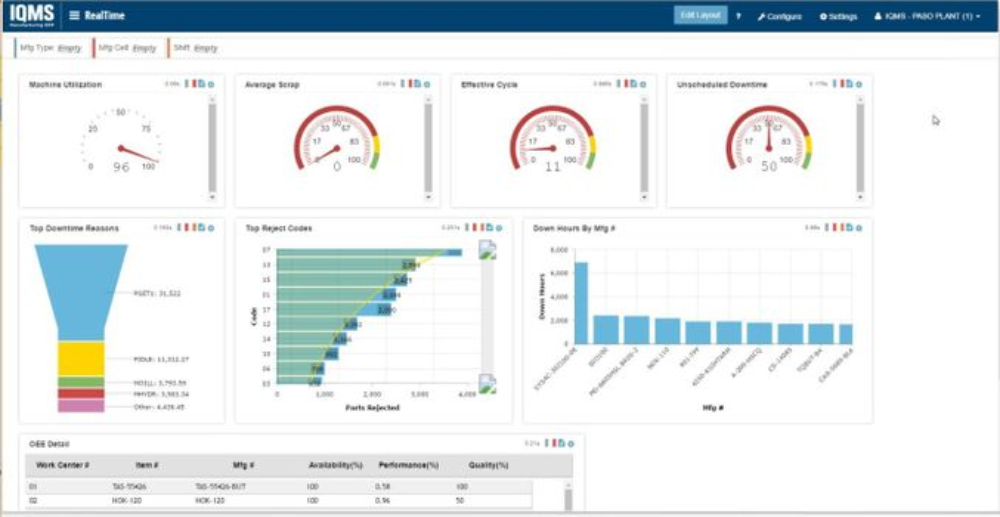 The main benefits of IQMS Manufacturing ERP are its ability to address specific manufacturing needs, its single database, and scalability.
Users who decide to get IQMS Manufacturing ERP get multiple modules in one platform. The IQMS Manufacturing ERP includes modules like supply chain software, manufacturing, MES, and ERP. Whatever aspect of the manufacturing industry the business may be involved in, the app can address those specific needs as it is designed to be comprehensive. Users only need to talk to a single development team who can help tailor the software to meet their requirements. There is also no need for third-party integrations as IQMS Manufacturing ERP has a single database.
IQMS Manufacturing ERP is user-friendly, with even the less tech-savvy among the team able to use it. IQMS can also take the place of several systems that may already exist in the company, such as MRP, real-time reporting, asset management, and preventive maintenance.
With the software, efficiency can be increased, unneeded downtime eliminated, manufacturing performance and production enhanced, and supply chain visibility improved.
With IQMS Manufacturing ERP, users can get their ROI quicker and have their maintenance costs and overall investment costs lowered. They only need to deal with a single development team and maintenance agreement. Users can also expect that any transaction undertaken will be immediately updated in real-time, all over the system. Users who encounter any issue only need to go to one contact point for technical support. The user interface remains consistent throughout and the Oracle database embedded in the solution only has a single set of tables. The requirements for manufacturing, MES, supply chain, and ERP are all determined by a singular development vision.
With IQMS Manufacturing ERP, users no longer have to deal with incompatible upgrades, inconsistent visions and business strategies from different vendors, and disparities that arise from reports created across many databases. The solution's single database also gets rid of a system architecture that is problematic and complex, often the result of multiple databases. Maintenance fees no longer need to be as high and companies don't have to work through multiple maintenance agreements and points of technical support. Since different systems no longer need to be integrated, implementation costs are also driven down. Data transfer between databases and application are shortened as well.