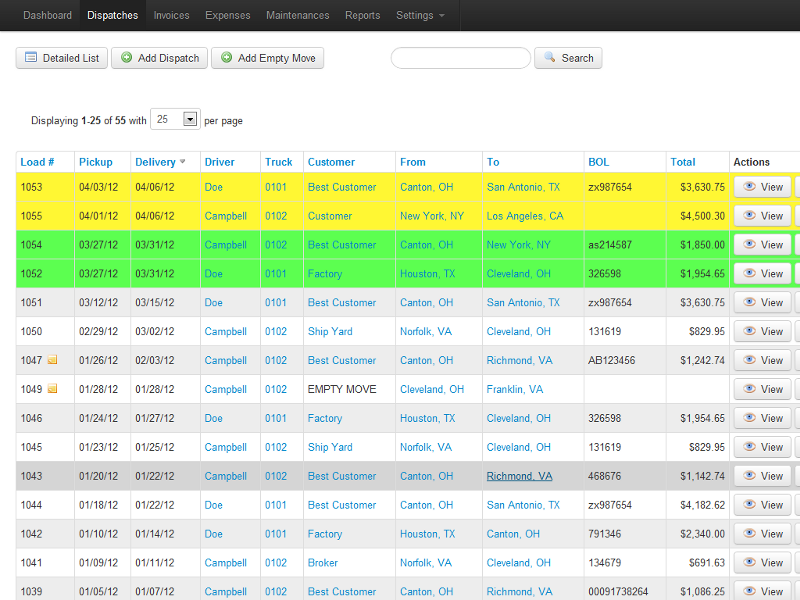 The main benefits of TruckingOffice are its truck status tracking, full dispatch data, and expense control. Here are the details:
Truck Status Tracking
TruckingOffice allows dispatch managers to be aware of the health of each fleet at all times because it tracks the miles traveled and the amount of fuel consumed through PC*Miler. This automated calculation can be utilized for IFTA compliance and to ensure that all your drivers adhere to laden routes. Besides that, it can also be used to ensure that your trucks are in good working conditions as they operate, guaranteeing your drivers' safety.
Full Dispatch Data
TruckingOffice offers administrators all the data needed in dispatching matters. Through this, they will know who drives the truck, where it heads, and what it carries, ensuring them that none of their fleets are used without prior permission to avoid theft.
Expense Control
Because you are given a complete overview of the entire operations, you can see clearly your cash outflows. This functionality allows you to know where most of the money is used on and lets you decide how to manage your expenses better.
Driver Compensation Calculation
The financial department of your business can calculate the amount owed to every driver. This allows you to pay your drivers accurately for every successful travel or loading while avoiding any disputes that come with sums.