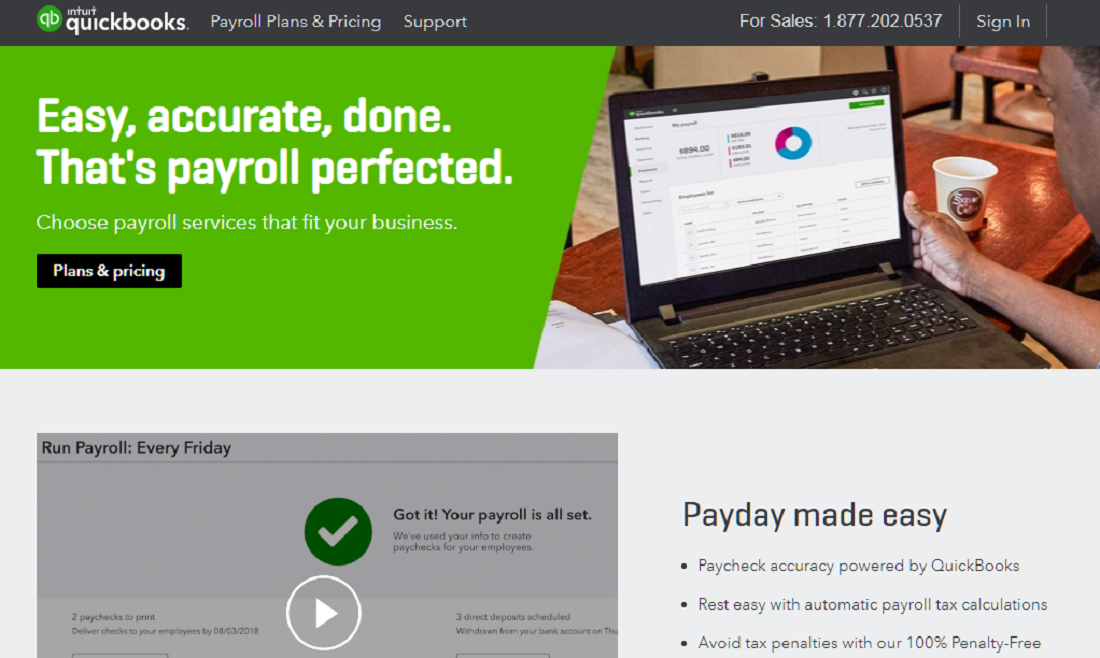 The main benefits of Intuit Payroll are its comprehensive features, accurate payment issuance, and top-notch customer support. Read on for more information:
Comprehensive features
Intuit Payroll has an extensive set of features and automation capabilities that effectively eliminate hassles in payroll processes. Because of these, the finance department can roll out the payroll in a timely manner to keep employees satisfied. An unlimited number of paychecks can be instantly generated by the system. It can calculate payroll taxes automatically and it also works perfectly with another Intuit product, QuickBooks.
Full-Service Payroll, the top tier package, provides a "No Penalty" guarantee. This means that companies wouldn't have to worry about missing deadlines and non-compliance.
Aside from the robust payroll tools and services that Intuit Payroll provides, the system also contains all the features necessary for effective employee management.  Intuit Payroll observes and keeps up with the latest mandatory policies such as poster compliance in agreement with state and federal labor laws.
The system also offers hiring tools, as well as tips, to give businesses access to important business advice that could help them in appealing to and obtaining top talents.
With the plethora of features it offers, Intuit Payroll has become highly recommended by a great number of businesses and business experts and consider it an essential solution for small businesses that want to expand and establish a name for themselves.
Accurate payment issuance
The system has an integrated worker compensation payment feature that ensures the company pays exactly what it owes to its employees. By accurately calculating the workers' compensation, the company can remain fully operational and profitable.
Top-notch customer support
The payroll solution is well praised for its top quality support. Intuit Payroll has a team of specialists that is always ready to assist their clients in need. They cover the entire spectrum of the field; from someone to guide the customers with the initial setup to an individual who could provide high-quality expertise on complex matters.