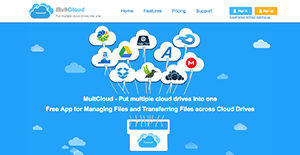 The main benefits of MultCloud are accessibility, strong encryption, and integration with cloud storage providers. The software enables you to use your multiple accounts without the need to sign in repeatedly, as the platform bypasses the need in accessing multiple websites or app installation to access your documents.
MultCloud works seamlessly with the widely utilize cloud storage providers such as Amazon S3, Box, Dropbox, Google Drive, OneDrive, WebDAV, and other known apps. With its cloud manager, multiple files can be transferred across other cloud drivers with ease.
The software encrypts your username and password using 256-bit AES encryption. This also allows the system to protect users from possible data breaches.