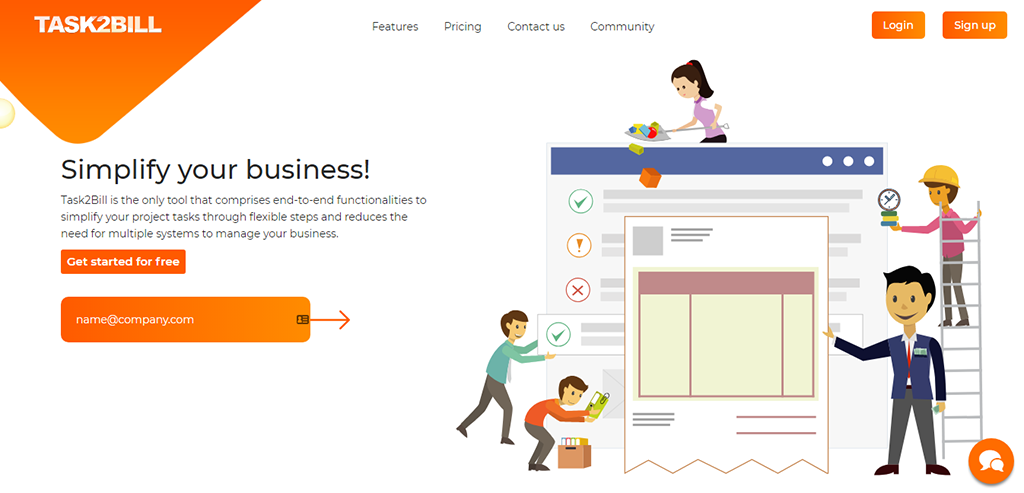 The main benefits of Task2Bill are, it simplifies task and project management, keeps you on top of clients and contacts, optimizes billing, file storage, leverage team collaboration, and generates insightful reports. Task2Bill helps you monitor your tasks and deliver your project successfully. Here are some of its main benefits:
Simplify Task and Project Management
Task2Bill has a drag-and-drop interface to streamline task management. You can set priorities on tasks, check on its status, post comments, and track time on the tool. Based on Task2Bill reviews, users also like how they can set milestones for payments and task groups.
Stay on Top of Clients and Contacts
To manage your teams better, you can assign custom roles for employees to cater to their specific responsibilities. You also have default roles such as manager, admin, and working employee. Meanwhile, adding multiple contacts is available for your company and clients.
Optimize Billing
Task2Bill gives you a client rate chart and negotiation to calculate for invoicing and quotations. Set billable items and send quotations to clients with ease. Additionally, you can generate invoices and process payments online or add them manually.
Offer File Storage
Since you need file storage for your tasks and projects, Task2Bill provides a free 1GB storage space on its server. Additionally, you can integrate with cloud storage apps like One Drive, Google Drive, Dropbox, and Box.
Leverage Team Collaboration
After going through various Task2Bill reviews, we also find that users are maximizing Task2Bill's collaboration solution to improve productivity. Team members can collaborate for appointments and meetings. It also automates reminders, notifications, and calendar and email sync.
Generate Insightful Reports
Based on your timesheet, projects, people and sales activity, you can generate reports to make a data-driven assessment of your projects. Identify which areas need improvement and fine-tuning to quickly respond to potential bottlenecks.