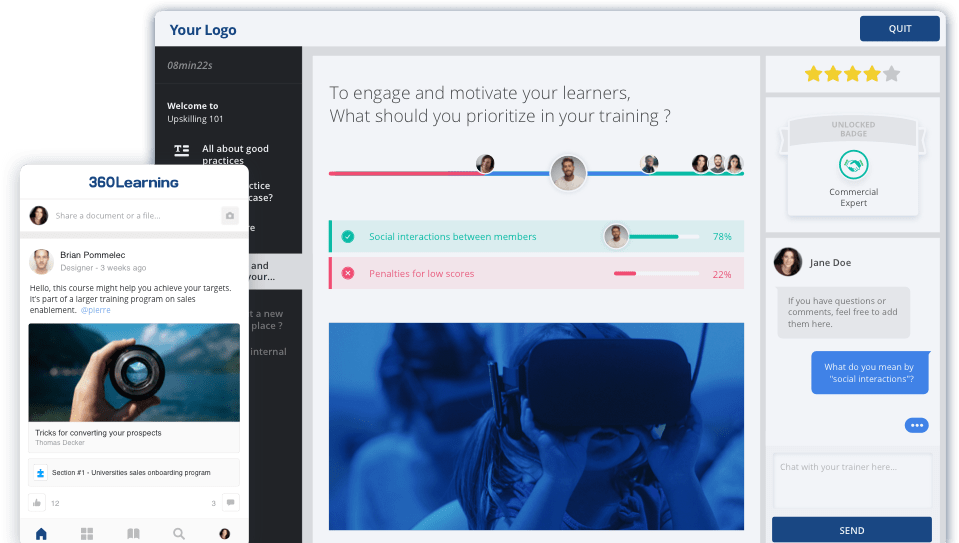 The main benefits of 360Learning are its powerful compatibility, increase learner engagement, and mobile-friendly features. Here are more details:
Powerful Compatibility
One likable aspect of 360Learning is its powerful compatibility. The solution works seamlessly with all media and web formats and makes it easy for organizations to use the underlying resources. With the platform, organizations can leverage the online content systems they already use to create new interactive content.  360Learning unearths innovative formats that simplify the production and implementation of new content.
Increase Learner Engagement
The use of gamified methods enables 360Learning to increase learner engagement. The platform helps trainers to deliver interactive online courses to engage learners on a day-to-day basis. Its gamification tactics are inspired by widely used web practices that learners are well conversant with. These strategies use human interaction as the epicenter of training thus facilitating innovation and collaboration.
Mobile-Friendly Features
Also, 360Learning is designed to be mobile-friendly. This means trainers can monitor and manage online courses anytime anywhere. On the other hand, the platform enables learners to access learning resources straight from their mobile devices anytime anywhere. Even better the users can collaborate and share knowledge from their mobile devices.
Moreover, 360Learning provides advanced tools that generate actionable insights to help trainers and experts improve their courses. It also features a reliable ranking system that utilizes gamification to pinpoint the best performing learner for each skill.